Anaheim Ducks Three Stars of the Week October 29-November 3
The Anaheim Ducks won two of their three contests last week. There were three players who led the team with their passion and dedication.
The Anaheim Ducks had their share of struggles over the week. However, in the end, they walked away 2-1-0 after an impressive comeback against Winnipeg, a lucky overtime goal against Vancouver, and a disappointing loss against Chicago. There were three players who led the team with their passion and dedication last week, and all of their hard work deserves to be noticed.
Third Star— Josh Mahura (3a)
Josh Mahura has played 3 games for the Anaheim Ducks so far this season, receiving his first call up in the wake of Brendan Guhle being sent down to San Diego. He's had a decent start for being shuffled around the blueline. Especially in his first game against the Winnipeg Jets. He registered 3 assists, including on the Ducks game-winning goal.
He impressed in his season debut and was the spark the Ducks needed to pull ahead of the Jets and light the lamp. He is the fourth rookie in Ducks history to record 3 assists in one game. It was assumed that he might be sent down after Hampus Lindholm returned, but it seems as though the staff has liked what they've seen from young Mahura.
Second Star— John Gibson (.937 SV%)
John Gibson has been a constant for the Anaheim Ducks while they figure out how to be a team again. He's had his slow starts and off games this season, of course, but for the most part, he's been a solid entity between the pipes. Things got off to a rough start for the goaltender against Winnipeg, but it didn't take him long to wake up and start making amazing save after amazing save. What was looking to be another blowout from the Jets, turned into a 7-4 victory for the Ducks, in large part to their goaltender.
However, his performance against Vancouver stands out as one of his best of the season. The Canucks very well could have won that game, putting almost 20 shots on goal in the first period. Nevertheless, in true Gibson fashion, he held off the opposition and only let in one goal in after facing 40 SOG.
First Star— Ryan Getzlaf (2g, 2a, 1,000 NHL games)
2019-20 has brought about a ton of new changes to the Anaheim Ducks, and there is one very important change that deserves to be noted about captain Ryan Getzlaf. After seasons of being encouraging him to shoot the puck he is, in fact, shooting the puck, and it is paying off in a big way. Not only has Ryan Getzlaf registered points in his last 5 games, but he is currently second on the team in goals, with 7.
In his 999th game with the Anaheim Ducks, he scored the game-winning goal in overtime against the Vancouver Canucks. The captain is currently on pace to have a 36 goal season. While it is still unknown as to whether or not that is sustainable for the 34-year-old veteran, it has been a nice change watching him score goals as opposed to strictly being a setup man.
He has stepped up in a big way this season, and his 15 seasons of hard work have paid off. He is the first player to play 1,000 games exclusively for the Anaheim Ducks. The Ducks have had several legends play on the Pond, including Paul Kariya and Teemu Selanne, but his 1,000 game tenure, playing in exactly half of the franchise's regular-season games, makes him the greatest Duck to play exclusively for the franchise.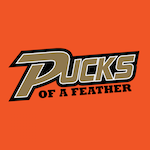 Want your voice heard? Join the Pucks Of A Feather team!
Write for us!
Are you a passionate Anaheim Ducks fan that enjoys reading Pucks of a Feather? Do you love the Anaheim Ducks enough to write about them? If so, we would love to make you a contributor! Just follow the link above for more information.