Ducks vs Blackhawks: Broadcast, Betting Odds, Getzlafs 1,000th Game
Ryan Getzlaf's 1,000th NHL game with the Anaheim Ducks is just hours away, and the team is hoping to win this one for their beloved captain.
Tonight is a very special night for the Anaheim Ducks captain, Ryan Getzlaf. Never before has a player appeared in 1,000 games dressed as a Duck. Getzlaf will be the first, appearing in the franchise's 2,000th game. As the face of the franchise, there is no player who deserves this honor more than our beloved captain.
After a rather difficult year for the entire team in 2018-19, there were a few questions surrounding the captain's position with the Ducks. Would he remain the first-line center? Could he make a comeback after such a rough year? Did he have enough gas left in the tank to continue to make an impact?
So far this season, we've seen a side of Ryan Getzlaf we haven't seen in quite some time. He has actually listened to the advice we've been trying to give him for years and he is shooting the puck. Currently, he is second in goals on the team, with 7, tied with Jakob Silfverberg and just one goal behind the leader, Adam Henrique.
He is on pace to have a 38 goal season, which would be the most goals he's ever scored in his career. Is that sustainable? That remains to be seen. But, it has been enjoyable watching the captain shoot the puck a lot more. This season, he's been having fun, he looks driven, and for the first time in a while, he seems to have found his purpose.
His game-winning goal against the Vancouver Canucks in Overtime on Friday was a great way for him to end his 999th career game. He's been building chemistry with several of the younger players, and it's been great to see that the captain has still got it after all these years of playing in the NHL.
What You Need to Know Before Puck Drop
Game 16: Anaheim Ducks vs. Chicago Blackhawks
Season Record: 9-6-0
Location: Honda Center— Anaheim, California
Time: 6:00pm PST
TV: Fox Sports West, ESPN+ (start your 7-day free trial today!)
Radio: AM830
Tickets: If you're looking for last-minute tickets for tonight's game against the Chicago Blackhawks, our friends at StubHub have a lot of decently priced tickets available for as low as $28.
Anaheim Ducks News: Max Jones has been sent down to the San Diego Gulls
Anaheim Ducks Betting Odds & Lines
Thanks to the information from our friends at the Action Network, the Anaheim Ducks are -159 on the Moneyline tonight. The Chicago Blackhawks have been struggling this season, currently 6th place in the Central Division and 7th in the Western Conference. Tonight is also their second game on a back-to-back, having lost 3-4 to the Los Angeles Kings in Overtime on Saturday.
On Friday, Anaheim won their contest against the Vancouver Cancucks in Overtime as well, Ryan Getzlaf scoring the game-winning goal. This was a game they should have lost; it was very reminiscent of the 2018-19 Ducks. Nevertheless, near the end of the second period, they started to pick up their feet and fight for a win. With Ryan Getzlaf's 1,000 career game with the Anaheim Ducks schedule for tonight, the team will likely pull through for their captain and light the lamp.
Anaheim Ducks Projected Lineup
Our friends at NHL.com have, once again, provided us with the Anaheim Ducks projected lineup for tonight's game:
Chicago Blackhawks Projected Lineup
NHL.com has also provided us with a better look into who the Anaheim Ducks will face out on the ice tonight: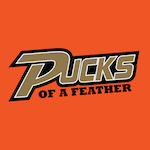 Want your voice heard? Join the Pucks Of A Feather team!
Write for us!
Do you love the Anaheim Ducks enough to write about them? Pucks of a Feather is looking to add more dedicated contributors to our team. If you're interested, don't hesitate. Apply today.