Anaheim Ducks Take-Aways from Victory over Jets
The Anaheim Ducks got back in the win column on Tuesday night after a very impressive victory over the Winnipeg Jets. It was fantastic to see this Ducks team that struggles on offense score seven goals, but what are the positives and negatives to improve on from this game?
In a rather surprising back-and-forth affair up until the end, the Anaheim Ducks came out on top against a struggling Jets team thanks to a very even score sheet, but it wasn't exactly as positive as it may seem. For the first time in a few years, the offense bailed out both the defense and the goalie, and that is the rarest statement that could ever be said for this Ducks team. Let's start by looking at the offense.
Offense to the Rescue
It was rather clear from the start of the game that John Gibson's game was slightly off like it was in Las Vegas, and that first goal that came on the first SOG was worrying. But throughout the night, the offense was right there to pick the game up after any mistakes by Gibson or the defense. It was a great variety of scorers that made this victory possible.
By the end of the game, six Anaheim Ducks had shown up on the scorecard. The ever-quiet Carter Rowney registered a two-goal game, the first of his entire career. Ryan Getzlaf also extended his scoring streak, it is those feel-good kinds of achievements that allowed those other skaters to pot their own goals. That momentum held the team together even when they were not playing very well, it was very reminiscent of that miraculous 2016-2017 Anaheim Ducks team that could score big momentum swinging goals. The offense went back to its old ways of picking up the defense as well.
Not the Ideal Defense, but Good Enough
Any night that sees Gibson or Ryan Miller facing forty shots isn't exactly a great defensive night, but the Ducks did manage to pick up their slack just enough to win. The defense on this team has taken incredibly big blows with the loss of Josh Manson and a lack of Brendan Guhle, so it's expected that they are experiencing some turbulence in that category, but all isn't lost just yet.
Surprisingly enough, Erik Gudbranson has picked up Anaheim's defense with solid minutes and solid physicality. This wasn't his best game by a long shot, but he was still out there pushing the puck and pressuring enough to stop break-aways. He played 21:10 minutes and accumulated two hits and three great blocks, so his presence is felt on the ice. Even Josh Mahura surprised the home-crowd with three assists and two blocks.
This is a tough and gritty Ducks defense that is still learning how to play well together, so it was promising to see them all improving with each other as the game went on. Brushing aside those weird clueless mistakes they made, the occasional flashiness of their play is something to keep in mind. In total, the defense had twenty-two hits, six blocks, and only one penalty taken. On the other hand, the lack of flashiness from Gibson is worrying.
Another Off Night for Gibson
Giving John Gibson the benefit of the doubt, it must have been hard to get back into a game after facing forty-nine shots and giving up five goals in his previous start. However, it is worrying to see how off he looked. To give up a goal on the first SOG is not very Gibson like.
He ended up giving up four goals instead of five, and luckily, the offense scored seven to back him. Another busy night in the crease saw him face forty shots yet again, and although the defense is still learning, it is not a good sign to see Gibson facing eighty-nine shots in two games. The defense has to be on their best game against Vancouver if they want to give Gibson the break he deserves.
Taking a look at a few stats to wrap things up, the Anaheim Ducks only took two penalties, won forty-eight percent on their face-offs, and they had thirteen SOG in the first period alone. It was a nice improvement over a very embarrassing loss against Las Vegas, but there are still things to improve on. The defense has to learn to mesh better to give the goaltender a break, the offense has to keep some consistency and go for a sizeable amount of goals every night, and John Gibson has to find his game after getting a little rest from two tough starts. Outside of those improvements, the Anaheim Ducks are still looking pretty good, better than most thought they would.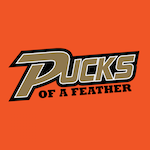 Want your voice heard? Join the Pucks Of A Feather team!
Write for us!
Are you a passionate Anaheim Ducks fan that loves reading Pucks of a Feather? If so, we would love to add you as a contributor! If you want more info into how to go from a reader to a writer, just follow the link above!