Anaheim Ducks 2019-20 Season: Choose Your Own Adventure
The 2019-2020 Anaheim Ducks season is approaching, and it is going to be an interesting story. You get to choose the path in this "Choose your own Adventure" game!
Throughout this article, you will be presented with choices to help you navigate through your own thoughts on the Anaheim Ducks and their upcoming season. You will be presented with both positive and negative scenarios for each subject we're about to cover, along with some related questions. Where do you stand? Are you excited for the promise of this new season with a new coach, new schemes, and some fresh faces? Or are you dreading watching another season toiling away with the Ducks sitting towards the bottom of the standings? The choice is yours!
With the start of pre-season, we will be embarking on a journey that could help us see how the 2019-20 Anaheim Ducks season will play out. With a clean slate, this could be the season the Anaheim Ducks reclaim their reputation as playoff dynamos. The players are ready to rebound, and Dallas Eakins has the potential to redeem himself from his days in Edmonton.
After last season, there is also the possibility that we have to sit through another season of devastating letdowns. Bob Murray gave us hope that things will be different this season, but with limited moves, could the rebuild extend into the 2020-21 season? If the team isn't kept accountable and their creativity is snuffed out by more poor decisions, the negativity and a general losing attitude could find its way back onto the ice for the Anaheim Ducks.
One crucial fact is that the start of the 2019-20 season will be very important to watch. There will be so much talent infused into the lineup, and the leaders of the team could help the young guns by giving them some much-needed guidance that will help them navigate the transition into a full-time skater in the NHL. If the team isn't given the right guidance, the veterans could be hampered by the inexperience surrounding them. Although having a group of fresh players could bring about new struggles, a new system and a new coach could make these problems even worse.
There are many question marks heading into this campaign for the Anaheim Ducks. For an organization that won five straight division titles and entered the playoffs with home-ice advantage in six consecutive seasons, the Ducks may have actually had a down year at the right time. They were able to provide a group of promising young talents with valuable NHL ice time, added a top prospect in the form of the ever crafty Trevor Zegras, and now turn to a somewhat familiar coach who has developed these prospects and led their AHL organization to three playoff appearances in four seasons.
Dallas Eakins First Season Behind the Anaheim Ducks Bench
Dallas Eakins' first season behind the bench will either be categorized as a resounding success or a very disappointing start. Eakins has mentioned that he has learned from his mistakes in Edmonton, and there is an overwhelming amount of proof that a coach's second stint in the NHL is often vastly different than his first.
After the justified firing of former head coach Randy Carlyle and Bob Murray's extracurricular coaching role to end a disappointing 2018-19 campaign, the Ducks turn to a new bench boss in Dallas Eakins. Eakins has a mixed bag of sustained success as a head coach at the AHL level with the Toronto Marlies and San Diego Gulls, and an abbreviated failure at the NHL level with the Edmonton Oilers. But, this time around, things seem to be going in a different direction. He now gets the opportunity to infuse the young talent he has groomed over the last four years into his own NHL scheme, young talents whom have had success working in his system before.
His tenure as the Anaheim Ducks head coach could certainly help the team challenge for a playoff spot. The Pacific Division is going to be a difficult feat, but with his amazing work ethic, Eakins could lead the team back to their winning ways.
This could also prove to be an overwhelming challenge for Eakins as he navigates the difficult waters of coaching a team that is coming off one of their most difficult seasons in recent franchise history. If he fails in his first season, not all will be lost, and it could figure into the 2020 draft lottery, which is shaping up to be one of the best drafts in recent years.
Will Dallas Eakins' first season behind the bench be categorized as a resounding success, or will it be a disappointing start?
Will John Gibson Continue to do John Gibson Things?
One of the only bright spots of the 2018-19 season was John Gibson, and with the start of his new contract, this could be an unforgettable season for the elite goaltender. This could be his year to finally get the recognition he deserves with a Vezina caliber season. Should the team revert back to their habits of last season, however, this could potentially be a year to forget. Gibson can't do it all by himself, and this season is going to depend on the defense. The defense will truly make or break Gibson's season depending on whether they can come back strong from last season or not.
Gibby was without a doubt the biggest gem of last season. His statistics were fantastic considering the Ducks' lackluster team defense and inability to score that left them dead last in the league in goals for. Many have argued that the organization left Gibby out to dry last year by often overworking him in unnecessary situations, and Gibson himself vocalized his frustrations at various times. Gibson is a Vezina caliber talent waiting for his team to catch up, and a talent like that needs to be recognized. If he does not get the help he deserves in front of him, my fear is his athleticism, talent, and body of work will be drowned by it.
Will John Gibson finally get the recognition he deserves or will he get lost in the crowd once more due to a lackluster defense?
Will the Defense Go in a New Direction?
Focusing the spotlight on the blueline, this is the year where the defense led by Cam Fowler, Hampus Lindholm, and Josh Manson will continue to struggle or will find their way to do well again. If they can find their old ways, they'll give John Gibson the help he desperately needs.
Simply put, the veterans on defense need to step it up this season. One of the most consistent aspects of last year was the often excessive amount of shots that John Gibson faced. If the Anaheim Ducks want to change their fate for this upcoming season, this is probably the most important team problem to fix.
The bottom three defensemen, made up of any combination of Brendan Guhle, Michael Del Zotto, Korbinian Holzer, Josh Mahura, or Jani Hakinppa will be a great surprise this season, aiding Fowler, Lindholm, and Manson in making significant strides in the right direction. However, the bottom pairing defensemen the Anaheim Ducks have deployed in recent years have been a heavy factor in losses, and if there is no accountability for the entire blueline, the cycle could repeat.
Is a resurgence or catastrophe awaiting the blueline this season?
El Captain Is Ready for His Comeback
The captain of the Anaheim Ducks in Ryan Getzlaf is looking to have a resurgence year, setting the example for a new scheme with familiar faces and new youth infused into the team. After discussing the glorious past and harsh reality of our Captain during our recent therapy session, it has become clear that the future of the team will someday not contain Getzlaf. Perhaps that isn't entirely true. Yes, the big man himself will undoubtedly hang up his skates sooner than later, but will he actually be gone?
Getzlaf has proven his worth by leading the organization to great success over his tenure, but the Ducks may actually get more value out of the captain now than they ever have. Getzy will have the opportunity to insert his wisdom, leadership, and work ethic into the further stars of the Anaheim Ducks this season. Nevertheless, should the team continue a downward spiral, this could be another hard season for the veteran leader.
Will our captain lead his team in their rise back to the top, or will he regress and have a hard time ever bouncing back?
Ondrej Kase Looking to Have a Breakout Season
Ondrej Kase is the true wildcard of this season. Despite trade rumors involving his name being spread rapidly, it seems as though young Kase will start his season in Anaheim. After spending most of the season on the sidelines last year, he's ready for a comeback that proves to the league that he's ready to break out. OK25 is headed in a positive direction that could see him having a career year, but should he fail to protect himself, this could be another injury-marred season that hampers his contract talks for next year.
Kase has been quite the magician, showing flashes of brilliance followed by lengthy disappearing acts. Staying healthy can go a long way in finding some consistency and reaching his full potential that I believe is largely overlooked. Kase has the potential to be one of the league's biggest surprises this season.
Will Ondrej Kase have a career season or will injuries continue to plague him?
Adam Henrique Presented with New Opportunities
With a new contract kicking in, there are two situations we could see play out for veteran center Adam Henrique. He has been a great addition to the team so far, although he has proven to be somewhat streaky under the inconstant coaching of Randy Carlyle. Going into 2019-20, he could exceed expectations or get comfortable with his fancy new contract and prove to be overpaid.
Henrique was the only Duck to reach the 82-game marker in 2018-19, but he failed to produce at a competitive top-6 rate. Considering Getzlaf's natural decline in production and Ryan Kesler's very uncertain future, Henrique has the unique opportunity to thrust himself into a top 2 center position. While he often earns his pay with his intangibles, that will not cut it on a team desperate for goal production. Henrique will need to prove his worth on the scoreboard once again this season.
Will Adam Henrique shine with the new opportunities presented to him, or will his contract look bad by the end of the season?
Is Rick Rak Back?
Rickard Rakell has proven to be a difference-maker on this team multiple times. After a difficult season last year, there is a fresh start for the young forward going into the 2019-20 season. He will either return to form or fail to live up to exceptions once again. The Swedish forward is more than capable to create chances with his slick hands and a nose for the back of the net.
He can be dynamic and someone who takes the game over, but he can also lose himself in the shuffle and stray away from the plays that make him effective. He needs to regain his form from two seasons ago and be around the 20 goal mark again. It is one of the most important factors in the Ducks' success that they have a threat to score, something they were hard-pressed to find last year.
Will Rickard Rakell return to form or are his days as an effective top 6 forward over?
It's Jakob Silfverberg's Time to Shine
Jakob Silfverberg has built up a solid career here in Anaheim with his smooth and deceiving shot and his stellar defense, but will he finally reach that 30 goal threshold or stay stuck in a position that doesn't promote any more healthy development for the veteran forward?
Silf is a player that every team needs, but he sometimes leaves something to be desired. His shot can be so fantastic sometimes, but for long stretches, he seems to just get stuck cleaning up the mess of his linemates and can't find the space to do his best work in the offensive zone. If he can get some top 6 minutes with fresh and creative linemates, watch for his bid to be a breakout candidate this year.
Will Jakob Silfverberg continue to build off of his success from last season, or will he get lost in the shuffle?
Devin Shore Looking to Impress in His First Full Season with the Ducks
We have yet to see Devin Shore perform for a full season with the Anaheim Ducks, and this is his chance to endear himself to the fans lest he gets lost in the shuffle. Fans are eager for Shore to fill the shoes of a former fan-favorite in Andrew Cogliano, which could be a very daunting task. He is a solid top 9 player with all of the intangibles that you want to see out of a player in that role. Whether or not he can work at the rate Cogliano once did with the defensive aspect of the game, as well as whether he can chip in somewhat steadily are both storylines to watch.
Can Devin Shore fill a desperate need for the Anaheim Ducks, or will he prove to be expendable?
Depth Forwards Hoping to Improve with Fresh Start
The depth players have a pretty unique opportunity with a fresh start this season to contribute more. Daniel Sprong has been given a better shot of success in Anaheim, and this is his season to shine. He has the potential to reach 20 goals if he works hard. However, should things take a drastic turn, he could fail to reach his full potential. Sprong is the perfect example of a boom or bust prospect. His potential to score goals is not up for debate, and his shot is deadly from anywhere within the offensive zone.
Other players like Nick Ritchie also have a lot to prove. The former first-round pick came to camp last year in the best shape of his career and it did have an impact on his effectiveness. He may not ever live up to his 10th overall draft position, but with his size and skill, he can round his game to look like a formidable top 9 player. This is another big aspect for the upcoming season. Nicolas Deslauriers, who was acquired from the Montreal Canadiens this offseason, seems to be the final piece. He will be looked upon as the big enforcer for any oversteps from any team against our stars and young players.
Will the depth forwards contribute in a big way this season, or will they fade into the background and be a source of frustration for the team?
The Rookies
The young kids have the esteemed opportunity to learn under a familiar friend and mentor in Dallas Eakins. Troy Terry, Sam Steel, and possibly Max Comtois or Max Jones are looking to start off strong in their first full season in the NHL. This crop of young forwards has a lot of question marks surrounding them, however.
Many of them had limited experience last season, and there were some struggles in the beginning. Nevertheless, each of them has grown under the guidance of Eakins by leaps and bounds after more games played down in the AHL. Troy Terry and Sam Steel are slated to make the team straight out of camp, while Maxime Comtois and Max Jones may not have that chance right away. With any possible injuries though, expect to see them up with the Ducks at some point this year.
Are the rookies ready to be full-time NHL players that will break through while proving to the experts that they are true difference makers? Or will they all look like they are way in over their heads?
All in all, the Anaheim Ducks have the potential to surprise or let down their fans going into a season with unknown expectations. It could be a year of great strides or more steps backwards, and I for one can't wait to see how it all unfolds; good or bad.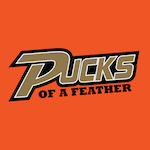 Want your voice heard? Join the Pucks Of A Feather team!
Write for us!
Do you love the Anaheim Ducks enough to write about them? The new season is approaching and Pucks of a Feather is looking to add more contributors to our wonderful team! Apply above, and don't be afraid to contact us if you have any questions!