Anaheim Ducks: Ondrej Kase for Justin Faulk Trade Rumors Heating Up
Rumors are a dime a dozen in the NHL, but recently, the Anaheim Ducks have found themselves in the rumor spotlight. Does an Ondrej Kase for Justin Faulk trade make sense for the team?
Over the past few days, it appears the Anaheim Ducks are in the spotlight, with trade rumors flying about. While most have either been unsubstantiated or non-starters due to contractual No-Trade Clauses, they have all his upon the fact that the Ducks currently have a lot of holes to fill if their aim is to be a playoff team.
The Patrick Laine rumor that has recently surfaced, while likely complete fabrication, hit upon the fact that the Ducks have a dearth of high-end goal-scoring talent. Even the prospect pool is mostly comprised of playmakers. This is compounded by the Ducks finishing last season approximately 50 goals behind the league median and having removed a top 50 scoring defenseman over the last season and dropping a former goal scorer in Corey Perry. No replacement has yet been acquired outside of the expected progression of the current prospect pool.
Talks of Acquiring Justin Faulk from Carolina Abound
More recently, Carolina's Justin Faulk has entered the conversation. Right up front, the Anaheim Ducks defensive unit has gone from being the envy of the league to a skeleton crew leaning heavily upon three top-4 defencemen. Hampus Lindholm, Josh Manson, and Cam Fowler will all be asked to lift a heavy burden. However, outside of those three, questions remain.
Josh Mahura and Brendan Guhle are well-hyped prospects by the Ducks fan group yet remain relative unknowns. Former St. Louis Blues draftee, Jani Hakanpaa, was signed as a bigger-bodied, right-handed, defenceman. Yet he too is unproven, having played nearly entirely in Finland over his career to date.
Thus, Faulk provides a proven commodity. A right-handed defenceman, with a solid history of producing points and with reasonable underlying statistical support. That is to say, he doesn't appear to just be a product of a good situation but is a solid defenceman in his own right. This is where things get murky.
Let us ignore that Anaheim is reportedly one of the 15 teams on Faulks contractual No-Trade list and that following this season Faulk will be an unrestricted free agent seeking a raise. A raise the Ducks cannot currently afford, given the Corey Perry buyout gives them only about $4.5 million in cap space next season at present time, and that Faulks current contract is $4.33 million per season.
The concern, and angst, is what the Ducks may have to give up in trade to acquire this player. As the rumor goes, Carolina has been interested in Anaheim Ducks fan-favorite, Ondrej Kase. A young restricted free agent with a 20 goal season to his name, and extremely strong underlying statistical data. If healthy, Kase appears to be in a prime position to become a breakout player and move into the ranks of great players in the league. The player's health, however, is something that is somewhat up in the air.
In each of his three seasons, Kase has missed games due to injuries which include concussion. The nature of these injuries should raise some concern, as patients who have suffered from a previous concussion are likely to require longer periods of recovery, meaning should Kase suffer another concussion he is likely to miss more games on each successive occasion. This is compounded by Men's Ice Hockey having the 4th highest incidence of concussion amongst all sports, although this is considered underreported by some.
Given the above, do the Ducks move on from a talented young player who is an injury risk and thus reducing their offensive potential, or do they hold onto him and hope that he becomes the player some pundits think that he could be? This question leads to the further question of who the Ducks should consider trading, as they embark upon their quest to once again become a playoff performer.
Is Rushing a Rebuild an Ideal Situation?
Initially, the question has to be asked, what the Ducks are looking to do and whether it's a realistic option for them at this time. Having missed the post-season last season, and with a large contingent of players who made them a near-lock for a playoff team either injured, aging, or no longer with the team, it would appear the Ducks are in the midst of a rebuild.
With a host of young players and prospects coming into the team, the rebuild appears to be in full swing. However, the Ducks also have a number of veteran players still on the roster, and the rumor of a Faulk trade suggests that the team believes it can rebuild on the fly while still presenting itself as a playoff performer.
This scenario hasn't really been a tightrope that any NHL team has been able to cross in the salary cap era. The Detroit Redwings were a playoff team for over a decade before their aging stars finally went out to pasture, and an underlying lack of talent tumbled them quickly from grace. The Calgary Flames perpetually attempted to compete while they had the face of the franchise Jarome Iginla in the fold, yet they never broke away from mediocrity until they finally ventured into a rebuild.
The Anaheim Ducks seem to be a sort of amalgamation of these teams. A half-decade long playoff run is a notable achievement, yet stalwarts of that run in Ryan Kesler and Corey Perry are no longer skating with the team and Ryan Getzlaf while still a great player, reminds somewhat of Henrik Zetterberg in his final years. The Ducks, of course, have star power in net, so long as John Gibson remains injury-free. Yet, he can only help them from losing games. He can't score and win the game for them in his own right.
In the same vein, continually topping up the team with good, but not elite talent, while leaning on the fading stars to get it done, is very reminiscent to the Flames modus operandi. In this instance, Justin Faulk is very much in this mold of player. However, the Ducks have a slightly higher rated prospect pool than the Flames did at the same time.
If the Anaheim Ducks believe that they are able to compete with the best teams in the league, and secure playoff position, then strengthening their defensive structure makes a great deal of sense. Faulk would come into the team as a ready-made top-4 defenceman, and immediately provide Cam Fowler with his strongest partner since Sami Vatanen was traded away. The flip side to the trade is that an already weak offensive lineup would immediately reduce its offensive potential with Kase leaving the other way.
More pressure would be placed on Getzlaf to return to the form he showed years ago, as well as for 1st and 2nd-year prospects to perhaps play above their current level and to develop rapidly. Should these gambles not pay off, the Ducks may find themselves as a middle of the road team this season, without a high draft pick coming into the team, a lower offensive potential with the younger Kase leaving, and potentially losing Faulk himself to free agency.
Conversely, should those gambles pay off, the Ducks could find themselves in competition with other Pacific division teams chasing the third playoff spot, or one of the wild card slots. That is to suggest that the Faulk acquisition would be a good one, yet not enough to push them into the upper echelons of the division or the league itself.
If the Anaheim Ducks believe that they are in a state of rebuilding, then acquiring a player who, while still young at 27 years of age, is on the wrong side of their statistical peak performance age, may not be the best idea for them going forward. Similarly, removing a potentially high scoring RFA may also not be a strong move, especially after moving on from Kyle Palmieri due to his scoring potential, in the now distant past. Certainly, Kase's injury history is of great concern, however, due to the player's on-ice performance's to date, it seems likely that should the Anaheim Ducks wish to move on from his risk factor, that a younger player may be a stronger candidate for acquisition.
Trading away Kase's scoring potential, for a future player would also help the Ducks "tank" the 2020 season, and thus securing a high draft pick, in what appears to be an exceptionally strong 2020 entry draft. Thus, a season of relative pain would bring hope with two young up and coming players being introduced to the team, and of a similar age bracket to the current influx of prospects populating the team.
Who Should the Anaheim Ducks Consider Trading Instead of Ondrej Kase?
In three season's time, the time it will likely take many of the young players to reach a consistently high level of play and push the team into contention, Nick Ritchie, Sam Steel, Max Jones, Troy Terry, Ondrej Kase, Hampus Lindholm, John Gibson, Daniel Sprong, and Rickard Rakell will all be still under 30 years of age and will be able to contribute for a few further seasons. Cam Fowler and Josh Manson will be hitting 30 years of age, and while they will likely be able to contribute they will certainly be on the downswing of their careers.
The rest of the current team, including the recently extended Jakob Silfverberg, will all be over that threshold and very likely in decline or no longer with the team. Thus, should the Ducks be committed to rebuilding and creating a powerhouse capable of winning Lord Stanley's Cup, they may consider moving on from some of the older players. Adam Henrique is one that comes to mind, despite his relatively recent extension, but perhaps Jakob Silfverberg could also be made available for the right price. Ditto for Cam Fowler or Josh Manson.
Nonetheless, while moving on from a potential injury risk in Ondrej Kase is understandable, it appears at face value to be a high-risk, low-reward, move. While Anaheim Ducks GM Bob Murray may be risk-averse, now may be the time to push his chips into the middle and take a chance. They should either go all-in on being a competitive team, in which case acquiring Faulk should be one of many moves, or they should really push the rebuild forward and follow the well-worn path of acquiring talented youth over veteran help.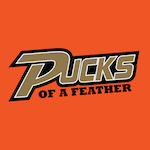 Want your voice heard? Join the Pucks Of A Feather team!
Write for us!
What are your thoughts about the trade rumor? Would you be willing to part with Ondrej Kase in order to bring Justin Faulk to Anaheim or is the trade even worth it? Let us know by leaving a comment down below!