2019 Anaheim Ducks Free Agent Targets: Derick Brassard
There are quite a few names in the free-agency pool this off-season that will cause fans excitement over the prospect of having them suit up on their favorite team. While it's highly unlikely the Anaheim Ducks get any of those big fish, that doesn't mean they won't be fishing.
The Anaheim Ducks find themselves in a position that is quite foreign to them over the past decade, they're in the midst of a re-tool but their roster isn't gutted of talent. Their prospects are seemingly ready to take the next step and they don't have a ton of holes to fill. This is the 3rd of 3 articles in which I'm going to discuss 3 players set to hit the free-agent market that the Ducks should consider bringing in this off-season.
Derick Brassard- Center- Current Team: Colorado Avalanche
Derick Brassard is a curious case. He's been a very consistently productive NHL player throughout his career, averaging about 40 points a season for the past decade. The only times he hasn't hit 40 points, he had a fairly good reason for it; his first full season in the NHL (36 points), the season he was traded to the Rangers (where he still managed 29 points in a lockout season), and his first season in Ottawa (he had 39 points.)
The only anomaly was this season, where he put up 23 points in 60 games. A fairly massive dropoff, but not without reason. For one, Brassard played on 3 different teams this year, that much change is going to be hard for anyone to really thrive, and secondly, he spent the majority of the season with the Pittsburgh Penguins where he was limited in ice-time and was delegated to the 3rd line.
Brassard is a player who for the bulk of his career has played in the top 6, playing a game where, as he puts it, he "plays with emotion". Brassard thrives on playing big minutes and working his way up the lineup. The problem with that is playing on a team with Evgeni Malkin and Sidney Crosby. It's gonna be hard to leapfrog them as they will undoubtedly get the lion's share of the minutes.
It wasn't a good fit for Brassard in Pittsburgh, and he showed promise once he was moved to Florida putting up 4 points in his brief 10 game stint there before being traded again, this time to the Colorado Avalanche where he once again became a cog in an already working machine. There was not enough time for him to separate himself from the players who already had chemistry and were working well on an Avalanche team on a hot streak.
Brassard is not a spring chicken, he's 31-years-old and will be 32 before the next season begins. He likely won't be a top-6 player anymore but that doesn't mean he won't be able to adjust to a role in the middle-6 of a lineup, able to move up and down as a team needs. which
With Ryan Getzlaf their only center who is a bonafide top 6 center, he could be someone the Anaheim Ducks could really use. Adam Henrique is streaky and at times looks like a great 2nd line center and other times kind of disappears. Adding in someone like a Derick Brassard who can move up into that 2nd line role when Henrique starts to taper off a bit would be invaluable to an Anaheim Ducks squad in a retool.
Expected Contract Value- 2-year contract at $2.5 to $3.0 million
Derick Brassard's best days are behind him but do you think it's worth giving the center a shot to rotate with Adam Henrique as one of the Ducks centers?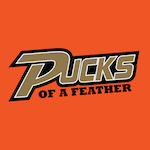 Want your voice heard? Join the Pucks Of A Feather team!
Write for us!
Do you want to share your favorite moment from the 2018-19 season? Join the Pucks of a Feather team and share your favorite moments throughout Anaheim Ducks History! It's as easy as filling out the application above!