Anaheim Ducks Mask Mondays: Viktor Fasth's "Mr. Freaky Duck"
We're back with another edition of Mask Mondays; a series where our resident goaltender, Jake Robles, examines popular masks that have been worn by Anaheim Ducks goaltenders over the past 25 years.
Hey there folks, welcome back to Pucks Of a Feather for another edition of Mask Mondays! I'm sorry for missing last week, some scheduling conflicts on Sunday evening prevented me from getting one out to you guys. Regardless, I'm here today to cover Viktor Fasth's "Mr. Freaky Duck" mask from the Anaheim Ducks 2012-2013 season!
Overall Design
Fasth, like many others we've covered here so far, is a Dave Gunnarsson customer. The general concept behind this one is a crazed or freaky looking duck. The mask is split into two different looks.
On the right cheek, remnants of a cracked and mostly destroyed Wild Wing mask sits on the freaky duck's clearly angry looking face. The left side features an equally upset looking duck face with missing teeth and no Wild Wing Wing mask.
The last little bits worth mentioning is a bump on the top of the duck's head and the go-to California palms along the back sides of the mask.
The thing I like most about this mask is the two-tone cage that corresponds to the different colors of the duck's face. It's a nice little touch that I've honestly never seen before on a goalie's mask.
I don't think it was intentional but another funny little detail is the duck's bill is angled a bit down the chin and I think it adds to the whole aesthetic of it being a beat up, crazed duck.
How It Meshes with the Uniform
This is where I start to not care for this mask so much. It has more to do with the fact that I'm not a huge fan of how Fasth decided to go with orange as the primary color on his pads than it is the mask.
I can handle orange in small doses when it comes to the watermark jerseys but they're just not visually appealing personally. With that being said, the pads he was wearing at the time and mask at least have similar color schemes and flow together.
Extra Tidbits and Reoccurring Themes
This was one of many Duck related masks that Fasth would wear in his time with the Anaheim Ducks. He'd go onto have a Judge Dredd themed mask and Bane themed mask in future seasons.
One really cool thing I found while looking at Dave Gunnarsson's Flickr account was in the description that said prior to this mask, Viktor had been a customer of his about a decade at that point.
Dave had painted one of his first masks' when Fasth was younger, back when his painting services were located at his parent's home in Sweden. The note finishes with congratulations to Viktor which I find pretty cool. Must've been special for him to do work for him again after he went pro.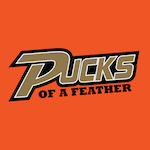 Want your voice heard? Join the Pucks Of A Feather team!
Write for us!
If you enjoy Jake's assessment and there's a mask you'd like him to examine, drop a comment down below or let us know on Facebook or Twitter!