Anaheim Ducks: Addressing Bob Murray's Remarks About the Ducks
The Anaheim Ducks General Manager, Bob Murray, finally broke his silence last night after their eleventh straight loss. Needless to say, fans are not happy.
Last night, a valiant effort was made by the Anaheim Ducks to put an end to their losing streak. They fought their way to overtime and were almost successful. Nevertheless, the losing streak continues with the Anaheim Ducks eleventh consecutive loss.
With eleven losses in as many games, fans are understandably not happy. We've been patient, waiting for answers from the front office. The problems are clear, and we have, so far, seen no blatant effort to make a change.
One of the negative qualities of having Bob Murray as a General Manager is his tendency to be tight-lipped. However, eleven losses later, he has finally broken the silence.
"While it's not my prefence to make comments on this topic during the season, our recent play has led to many questions. Our fans are frustrated, and deserve a response from me.

At this time, I am not considering a coaching change. I am more focus on our players, specifically with who is going to step up in this sitation. The way we played tonight was a step in the right direction, but we need much, much more. We have higher expections for this group, and they should expect more from themselves."

-Bob Murray, Anaheim Ducks Executive Vice President/General Manager
While this response comes as no surprise, it is frustrating for us to hear. Bob Murray has, in a way, poured salt into our open wounds. The reality that Randy Carlyle is here to stay for at least the remainder of the season stings.
We all knew in the back of our minds that this was the direction that Murray was going to take. He and Carlyle have been friends for years and with the promise of a front office job after his tenure behind the bench, it's unlikely that GMBM would fire him before the season ended.
I do not like his decision to keep Randy Carlyle behind the bench, however, I do respect Bob Murray. He has been in this business far longer than any of us and I know he's probably just as frustrated as the rest of us.
However, he must keep things professional and there is a big chance he isn't being completely honest with us on his feelings towards the situation.
From here on out, however, I do expect him to keep the players more accountable. If he is going to come out and make a statement that puts a majority of the blame on the players, something needs to be done. He cannot preach change and do nothing in return.
If his frustrations are directed at his players and they do not perform up to expectation, a trade needs to happen or he needs to sit one or more of them in the press box with him for a while.
From the sound of it, change is coming to Anaheim. How and when still remains to be seen. I just hope, for the sake of all of us, it comes sooner rather than later.
The Anaheim Ducks regular season ends against the Los Angeles Kings on April 5, 2019, and as they keep losing, their chances at the playoff's get smaller and smaller every day. So, to give you all something to look forward to, Randy Carlyle's contract, barring a playoff run, ends in 82 days.
Hopefully, next season, we can all look forward to a new coach, a new system, and a team with a new attitude. After this season, that is what Ducks Nation deserves. Hang in there my friends! 82 days isn't too far away.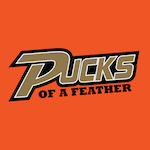 Want your voice heard? Join the Pucks Of A Feather team!
Write for us!
What are your thoughts on Bob Murray's statement? Let us know by leaving a comment below!