Anaheim Ducks Offense may be saved by the Adam Henrique Line
The 2018-2019 Anaheim Ducks season is still months away, and the amount of question marks surrounding them seems to multiply by the day. One of them is the Adam Henrique line.
While the Adam Henrique line is one question, here are a few other questions surrounding the Anaheim Ducks. What is the status of Ryan Kesler? If he's out who comes in to be the 2C? Is Corey Perry long for this team? Will the kids make the jump? What are some of these free agent signings about?
And I'm sure I missed a couple.
But as we hover around three months to go before the puck drops on Katella Ave., its time to look at what the Ducks can control, and if the Ducks want to score goals this season, it may very well be the third line that is the complete catalyst.
You Have to Roll 4
The NHL has changed! Gone are the days of riding the 1-2 lines and being a top-flight team while being "top heavy." The Ducks need to get faster and deeper through all four lines. Subtract the fact that the status of Ryan Kesler and his hip is still shrouded in mystery and the Ducks look poised to run four lines this season.
Ryan Getzlaf will have his line rolling with Rickard Rakell and either Corey Perry or Patrick Eaves. Kesler will have his usual line-mates of Jakob Silfverberg and Andrew Cogliano. And hopefully, Bob Murray reads my articles, and I get my dream of an all-kid fourth line with the likes of Troy Terry, Kevin Roy, and Max Jones. But its the third line that may be the ace in the hole for the Ducks.
Feel the Need, the Need for Speed
Adam Henrique came to the Ducks last season when they were in dire straights. When the likes of Chris Wagner and Derek Grant comprise your first two centers due to injuries to Getzlaf and Kesler, things aren't looking good.
But Henrique was a shot of life for the Ducks, and he continued that all season long. In 57 games Henrique posted a 20-16-36 line and perhaps even more remarkable was a +17. That means he was getting it done on both ends of the ice and him along with line-mate Ondrej Kase created some great chemistry.
They are fast, both possess great quick shots and play the same style where they can hurt you on the rush and be cycling pests down low. Kase had a breakout year posting 38 points, most a product of being a line with Henrique.
They achieved these great stats and chemistry with the anchor that Nick Ritchie can be. Yes he had 27 points, and he can create space for the other two but he is not fast, and I have seen enough of him sitting in the penalty box. Time for the speed to get even more ramped up on this line.
Man of Steel
Sam Steel, he has lit up Juniors as well as the World Juniors, and he looks poised to bring his game to the pro level.
A colleague here at Pucks of a Feather, Kennyth M, went to the Ducks prospect camp and had this to say about what he saw from Steel.
Following this year's draft, Steel participated in the Anaheim Ducks development camp. The young center's physical development was noticeable, he appears to have added size necessary to compete. During the scrimmage, it was easy to see he was Anaheim's top prospect (along with Troy Terry).

Engaged in every shift, Steel was driven to make an impact with the Ducks' brass. He'd skate with the puck into the boards and all the sudden, his linemate was releasing a one-timer from the slot to everyone's surprise. The added muscle allowed him to battle pucks away from Team Black's defenders and control the pace of play.
Now Steel's natural position is center, but so is Rickard Rakell's. And as Duck fans and the rest of the NHL has seen he does just fine on the wing. Putting somebody like Steel with two players in Henrique and Kase that play the same game as him and are just as fast could make this a 3rd line that will put up stats like a second line and have the Ducks an even more dangerous team.
07 Blueprint
No, I would never compare a Steel-Henrique-Kase line to the line of Travis Moen– Sami Pahlsson- Rob Niedermayer. That 07′ line was a shutdown first, score when you can line, but they were a line that stayed together all season long. They were a line that, when it mattered most, put up goals, and a line that took pressure off the scoring lines above them.
The Henrique line I am looking for would do the same and then some because they will put up points. They will give teams something else to think about and have to defend opening up Getzlaf, Rakell, Eaves, and Kesler to all have increased opportunities and make the Anaheim Ducks a more dangerous team.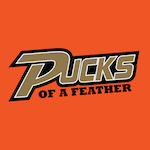 Want your voice heard? Join the Pucks Of A Feather team!
Write for us!
The Ducks have the tools to be able to do this, and need to take the chance. Change is coming, and if the Anaheim Ducks have the faith to let that change happen, we could be in for quite a season.