Anaheim Ducks Tales: The Game That Would Not End
Every Anaheim Ducks fan remembers "Off the Floor, on the Board" from the 2003 Stanley Cup Finals. But most seem to forget about a game that happened in round two against the Dallas Stars. It was the game that would not end. A five-overtime thriller at the American Airlines Center in Dallas
April 24th, 2003. The Mighty Ducks of Anaheim had just upset the defending Stanley Cup Champion, Detroit Red Wings. After sweeping the Red Wings, they found themselves in Dallas for a second-round matchup with the top-seeded Stars. The Mighty Ducks should have won game one in regulation. A late goal from Dallas' Brenden Morrow ultimately sent the contest into Overtime.
Four overtime periods had passed with no goals being scored. Both teams were gassed, but still fighting on for that game-winning goal. Just as the fifth overtime got underway, Mighty Ducks forward Mike Leclerc was pinned against the board with the puck at his feet.
The Winner
He then looked up and kicked the puck to linemate Adam Oates. From there, the wide open Oates found a streaking Petr Sykora with a nice pass. Sykora had beaten his man to the center of the slot and released a Slap Shot that Stars Goalie Marty Turco had no chance at saving. 48 seconds into the fifth overtime, "The game that would not end, just has" as ESPN's Steve Levy said after the Sykora goal.
The Ducks had taken Game 1 by the score of 4-3. It was the longest game (140 minutes and 48 seconds) in Ducks history and fourth longest in NHL History. The five OT affair led to some interesting stat lines. For example, Jean-Sebastien Giguere saved 60 of the 63 shots he faced. Additionally, defenseman Keith Carney played a team high of 56:20 over 83 shifts.
Fallout
That game set the stage for the Mighty Ducks to beat Dallas in six games and move on the Western Conference Final. They then swept the Minnesota Wild and moved on to the club's first Stanley Cup Finals. A series that went to the max, but one where the Mighty Ducks fell just short against New Jersey.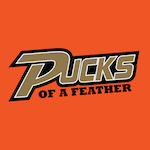 Want your voice heard? Join the Pucks Of A Feather team!
Write for us!
People tend to forget this classic game. If it wasn't for Petr Sykora, the Ducks would not have gotten passed Dallas and eventually reach the Stanley Cup Finals. He will always be an Anaheim Ducks
---
legend for his goal in "the game that would not end."