Anaheim Ducks vs Ottawa Senators: Betting Odds, Fantasy, Cellar Dwellers
Can the Anaheim Ducks keep their offensive resurgence rolling against one of the league's cellar-dwellers?
The Anaheim Ducks rolled into February coming from a short two-game home-stand in which they put up goals in bunches. A four-goal game against the up and down Arizona Coyotes, followed by what was one of the better performances of the year against the Tampa Bay Lightning. They backed it up on the first night of February with a three-goal burst against the LA Kings.
Is this the new Anaheim Ducks? With Nick Ritchie, Troy Terry, and the most elite of the 1C's, Derek Grant, all back from injury, the Ducks are essentially at full strength. This is the now the team that General Manager Bob Murray expected to compete for a playoff position when he crafted it in the off-season. Of those returning players, Terry has two points in his last three games, Grant has 3 points in his last three games, and while Ritchie has not scored since his return game against the San Jose Sharks, he has been top 3 on the roster for expected goals in 2 of those 3 games.
The question, however, remains as to whether the team can continue to put up points in bunches while on the road. Certainly, Staples Center is technically a road game, but there's no travel involved. Heading to Ottawa however, is a different beast. While the Senators are one of the league's worst teams, in the midst of a 2-3-5 streak in the past 10 games, like the vast majority of NHL teams (only 4 teams have a losing record at home this season) they do have a positive record on home ice. That record gives some warning for caution. With that said, the Senators are also giving up the 5th most goals per game in the NHL this season.
It should be mentioned that both teams wallow in the shallow end of the NHL with respect to goal scoring and goal prevention. Yet, this may give the Ducks some hope. The scoring they've put up in recent games far exceeds what they've done throughout the rest of the season and would go a long way to overcome a very poor Senators defense (sans Thomas Chabot who is a stud muffin.)
What You Need to Know Before Puck Drop
Game 53: Anaheim Ducks vs Ottawa Senators
Season Record: 21-26-5
Location: Canadian Tire (Fire) Centre— Ottawa, Ontario, Canada
Time: 4:30pm PST
TV: Prime Ticket
Radio: AM830
Tickets: Get your last minute tickets for tonight's Anaheim Ducks vs Ottawa Senators match up for as low as CA$10, thanks to our friends at StubHub.
Anaheim Ducks News: The club has called up Daniel Sprong from the San Diego Gulls.
Anaheim Ducks Betting Odds
Anaheim Ducks: +100
Ottawa Senators: -120
According to the Action Network, the Ottawa Senators are the favorites on the money line tonight vs the Anaheim Ducks. The Anaheim Ducks' struggles on the road could be a major factor in the Senators being tonight's favorites. Nevertheless, the Ducks' recent success following the All-Star Break could make them the underdogs at Canadian Tire Centre.
Fantasy Hockey
For long term fantasy investors, there isn't a lot on offer between the Anaheim Ducks and the Ottawa Senators. However, a recent uptick in scoring has presented a buy opportunity for players looking for a quick offensive injection.
Over the past 4 games, Rickard Rakell has fired off 11 shots for 1 goal, 2 assists. He's also added 9 hits to round out some of those peripheral stats you may be counting. At present Rakell is the bright spot in what is an anemic Anaheim offense, and while not an automatic start in the fantasy format, is certainly worth considering against one of the league's cellar dwellers.
The big-name on the Ottawa roster is of course Brady Tkachuk, although it seems extremely unlikely that he'll be available for you to acquire. If you have him, however, he's an instant play tonight, as he's fired off 16 shots over his past 4 games. The Ducks don't appear to have any desire to play defense, so he's a good chance to score if he continues to shoot with that reckless abandon. Tkachuk is also a physical beast, that won't mind throwing the gloves when the Ducks go for their scheduled staged fight in this game. Penalty minutes, shots, hits, and potential goal-scoring, means he's an auto-start in this one.
Weather Forecast
According to the Weather Channel, it's going to be a chilly one today in Ottawa, Ontario, Canada. It is presumed to be mostly cloudy, with a high of 34° and a low of 12º later in the evening. There is a small chance of rain with light winds, which may make it feel colder than it actually is. It would be smart, if you're attending the game, to bring something other than a pea coat and a tuque (we're looking at you, Troy Terry!)
If you're watching from Orange County tonight, be prepared for abundant sunshine. The high for today is supposed to be 62. Although, it will get significantly colder during the evening. So, feel free to bundle up with a warm blanket if you're watching from home.
Anaheim Ducks Projected Lineup
The Anaheim Ducks projected lineup has been provided by NHL.com:
Rickard Rakell-Ryan Getzlaf–Jakob Silfverberg

Nick Ritchie-Adam Henrique-Troy Terry

Max Jones–Sam Steel–Ondrej Kase

Nicolas Deslauriers-Derek Grant-Daniel Sprong

Hampus Lindholm–Erik Gudbranson

Jacob Larsson–Michael Del Zotto

Starting Goaltender: John Gibson

Backup Goaltender: Ryan Miller

Scratched: Korbinian Holzer, Devin Shore, Carter Rowney

Injured: None
Ottawa Senators Projected Lineup
The Ottawa Senators projected lineup has been provided by NHL.com: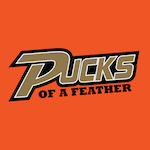 Want your voice heard? Join the Pucks Of A Feather team!
Write for us!
Are you an Anaheim Ducks fanatic that would enjoy writing for Pucks of a Feather? If so, just follow the link above for information on how you can join us!