Anaheim Ducks: All Aboard the Ian Moore Hype Train
The Anaheim Ducks third-round selection in the 2020 NHL Entry Draft, Ian Moore, is a player you should get excited about.
It's now months after the draft and despite marquee players such as Jamie Drysdale making the Canadian WJC team, a lot of the buzz has fallen away from what the Anaheim Ducks did back then. What they did, just to jog your memory, was draft for need. They picked up the right shooting, smooth-skating, future version of Cam Fowler with their first selection. That's the aforementioned Jamie Drysdale for those out of the loop.
Heading back to the virtual podium, with their dystopian background haunting ominously behind them, Martin Madden and Bob Murray took a detour from the Ducks stock-standard safe selections and went for the highly skilled "boom or bust" goal scorer Jacob Perreault, to fill the glaring and desperate need of "who the heck is going to score?" Worth it? With the Anaheim Ducks track record of developing *checks notes* very few forwards over the past decade, they had better hope this one pans out. It probably, maybe, might.
With the 36th overall selection in the second round, the Anaheim Ducks went back to their usual watering hole of bigger, after, and power-forwardy players. Sam Colangelo was probably the right choice in that he had the highest star power left on the board according to Bryan Bader's algorithm. There's also the fact that he was selected in the numbered draft position that all-world netminder John Gibson wears on his back. It might not mean anything, but with the hot new trend of manifesting going on in this weird wild old world, it might just be a sign from the hockey gods.
Colangelo is a little similar to one or two other Anaheim Ducks prospects, but slotting in on a line with Max Jones or Max Comtois is at least an interesting idea. A big-bodied line playing heavy hockey as opposed to the slighter, faster, slicker, players the Anaheim Ducks have drafted or acquired in recent times to dance about their opponents, is a good idea in my opinion.
Good players are good players and are always hard to match up with. However, different lines playing different styles and producing different looks make it harder for the defense to get set. Of course, with Comtois and Jones failing to live up to their billing last season, and with the expansion draft impending, we shall see if those players make it through to play with their new clone.
Nonetheless, those players are the hype players. The players that everyone loves because they're high selections. They're, and forgive me for saying this, but just a little boring to talk about.
I want to get hyped about an unknown. I want to find a cult to follow outside the norm. The original #1C David Steckel comes to mind. Sure Derek Grant was cool, but he didn't turn the third line into a point per game monster (alongside Bobby Ryan and Kyle Palmieri). It's that kind of player that I want to hype up and hype early.
Enter Ian Moore in the third round. Toot Freaking Toot. The Hype-Train is leaving the station!
Is That a Bazooka?
By now, you're probably scrambling for his elite prospect page and wondering why anyone would care about a prep school player. Well, sit and down and buckle your seatbelt sonny Jim, cause I'm about to get real with you.
The Ducks defense over the last decade has underwhelmed. No, truly it has. No 40-point scorers. No one even hit 20-points on the power play. In over a decade. Oh, you say, but offensive defencemen. Smooth skating. "BA-HUMBUG" is my response to you. You have to hammer that puck so the goalie feels it when you're teeing off from the point. You don't want him heading off to intermission thinking he's been hit harder by butterflies.
Cam Fowler has been probably the Ducks' best defenceman for nearly a decade now. He may be a lot of things, but a big-time shooter he is not. I've seen goalies hit harder by butterflies than the rubber on his shot. Hampus Lindholm isn't much better with his limp wrister. Besides that, he couldn't hit the side of a barn with a shovel of sheep *cough* well you know, let alone pick the pocket and sneak one past the netminder, high glove.
But now the Anaheim Ducks have drafted Ian "freaking" Moore— yeah he's getting big David Steckel's moniker. Mooresy. Big Moore-tar. Oh boy, this kid has a cannon. A howitzer. He winds up, gets down on one knee, gets that Ovie-like stick flex, and rips it like an RPG homing in on the unsuspecting netminder. BAM! Just like Domino's, that's a top-shelf delivery.
Do you remember the last time the Anaheim Ducks had a smashing slapper on the power play? An over-powering one-timer? I call shenanigans. You don't. You're a liar. It's been a decade. Probably longer. I don't know, I can't remember either. Not even pepperidge farm remembers.
But you know what I do remember? Screaming "Shoot!" every time Fowler or some other weak wristed defenceman attempted to feather a soft ineffective shot through to the keeper. For over the past decade. It's not a real shot, it's a short pass to the blocking defenceman in the shooting lane. All that shot is doing is allowing them to get on the breakaway and bother our messiah, Sir Jonathon of Gibson
Don't you think it will be sweet relief to see that front of net power forward who the Ducks have drafted each and every year for the past millennium actually earn their money with a cute tip? Or being forced to screen the goalie so hard it seems like arrows are blocking out the sun, a la the arrows in the 300 movie.
It would be like sipping sweet ambrosia to see big Mooresy cut in against the grain and simply overpower whichever ECHL goalie the Oilers are icing that season with his big-time ICBM from the point? No offense to whoever the Oilers sub-par goalie is of course, but homies, ya'll ain't gloving a sidewinder from Moore-Bomb coming in at Mach 2.5. No way. No how. He's a shark, the ice is his ocean, and sweety, you don't know how to swim.
Weight Gain 4000?
So yeah, that's where I'm coming from. An offensive weapon with the man advantage. A big rig on the open highway. Sure, he was an all-around do-everything type at St. Marks. But, let's be honest here. Tossing around high school pigmies like rag dolls isn't too difficult when you're a 6'3" man child. A beast. The beast. The beast of the Moore's.
Funnily enough, Moore isn't a big hitter. He's not afraid of digging in the corners but just doesn't use his size and speed to lay down the hurt like I want him to. That's right. What I personally want. He's my new cult to follow and I want to see blood! Well, figurative blood. Let's keep it within the rules, eh? Settled down savages. Who are you? Canucks fans? Taking your skate off and stabbing someone with it is reserved for the playoffs. Moorsey has to hold back on that for at least an 82 game sample
However, at ~185 lbs (I speak for the world, when I say will you Seppo's learn to use metric?) this little ripper could stand to put on a little Moore mass and get bigger and stronger. Sometimes you watch him on the ice and he looks like a baby giraffe on skates, with his less than buff frame being the thinspiration for the intermittent fasting crowd.
At some stage in the future, he's going to be facing up against the LA Kings' new unicorn Quinton Byfield. I do not want to see a lost puck battle against that talented freak show. I want Moore all over him like a fat kid on a cupcake. Like a cheap suit. An inch taller and 30 lbs lighter, Moore has some catching up to do in order to build up his rig to withstand that puck battle repetitively over the season.
An inch taller and 30 lbs lighter, Moore has some cough, supplements, cough to inhale to build up his rig to withstand that puck battle repetitively over the season. Beefcake! The required cough, supplement, cough dose? Just put a bunch in your hand, open your mouth and throw them in like they're Skittles. Whatever sticks, that's the right amount. My professional opinion? Who are you? The police?
*Ducks and runs*
You know though we can talk about defense, however, this kid is going to make Moore of his money on the offensive end than with his defensive contributions. Like many recent draft selections of the Anaheim Ducks, this kid can skate. He could hardly get any faster.
Like white lighting out there, he uses good edge work and the fantastic first step to either get back to recover the puck's dumped in by the offense or to create separation on the offensive rush. Though if we're honest, that first attribute isn't going to get much use if Dallas Eakins is still using his turnstile defensive system of letting the opposition carry the puck in whenever they like.
"He's 6-3, can skate like the wind and is an unbelievable talent, and he doesn't even know how good he is…… He's got NHL All-Star potential written on him if he does all the right things." – Carl Corazzini
Picture This
This kid is a good skater. So good it even opens up the potential for a two-way defensive juggernaut, if everything breaks just the right way. Picture this… Picture it. I'm waiting:
It's the year 2025. Arthur Kaliyev* is stymied at the blue line by quick skating, big-hitting, modern-day Hercules, Max Jones. Being an over-rated hack Kaliyev has no other options but to get the puck in deep, hoping, praying, that one of his inept teammates – probably stinking like B.O. plenty – could weasel their way in to recover that loose puck. But Big Rig Mooresy uses that whippet like skating stride to cut through the congestion like a greased pig, picking up that stray puck before Akil Thomas* or whichever future nobody the Kings are icing that year can even get near it.
From here, he rips the short pass, tape-to-tape of course, to the incredibly handsome and ever-popular Brayden Tracey, who much like a cop protecting their doughnut, plays keepy-off all the way up the ice before starting the old Getzlafian behind the net cycle. Doing so not just for purpose, but to remind the Kings how much they sucked in Corey Perry's prime. Focusing on Ryan Getzlaf's heir apparent, Trevor Zegras, the King's wonky defense will lose track of Moorsey. They can't keep track of him, he's a B2 stealth bomber.
Like a ninja, he'll appear in the Kings zone. Using his slick skating to catch up the play, he'll transition from deep in his defensive corner where he initiated all of this sweet action to entering the King's zone with and frenetic pace. BOOM! Jacob Perreault slings the puck from behind the Kings net where he's been toying with the King's outclassed defense. Crisp as the morning dew and out towards the blue line. To no-man's land.
But what's that? Is that a Harrier Jump Jet? They've finally finished the much-anticipated F-35? Ian Moore cuts in on the overlap and just hammers it. Do sticks even flex that much? 20 seconds ago you would have sworn no. No that's impossible! But right here, right now, you see the impossible come to life. The heavy ordnance that Moore is packing cracks like a thunderbolt. At the speed of light, you can't see the puck travel, but there's a red flashing light, a goal horn.
Claim Your Seat
Just like that, as though they were the Black Knights of Independence Day, the Anaheim Ducks would be victorious once again. You've come with me on the journey and perhaps you can see what this big rig can do for a team that has essentially struggled to find legitimate scorers from the blue line for over a decade. We'll get to see it on a night to night basis. Sure Drysdale is currently projected to be the heavy lifter on offense moving forward, but he simply doesn't have the shot or the reach that Moore has.
Like the former Boston Bruins and Chicago Blackhawks player, Carl Corazinni said, Ian has Moore All-Star potential in his little finger than most have in their entire bodies (hyperbole for effect – see quote above for reality).
The Big gun. Moorsey. Ian "freaking" Moore. It'll be too late to claim your front-row seat on the bandwagon then. But right here? Right now? Seats are going cheap. Come with my brothers and sisters. Join me in the cult of Moore. We have lime flavored kool-aid.
Parmi or Parma?
Look if you're not sold on how much Moore success this kid can bring to the Ducks if you're just not sure if he's the bandwagon you want to get on, let me just pass on this story…
Moore was watching the draft with his teammates when he was selected by the Ducks. He was drafted. Teammates jumped on him. Hip, hip, hoo-ray. So far this is the story of every draft pick ever right?
Well directly after this, Moore went directly to the pub. He did not pass "Go." He did not collect "$200." This handsome sex bomb of a player got himself drafted by the best team in professional hockey (that isn't Jokerit), then went directly to the pub.
"Let's go to the Winchester, have a nice cold pint, and wait for this all to blow over. "- Shaun, from Shaun of the Dead.
It straight up speaks to me on a level that I've not felt from one of the beige, lacking in personality, robotic prospects, the Anaheim Ducks have drafted in recent history. This kid, however, even for an old man like myself, this kid is relatable. Who amongst us doesn't think, "It's all a bit overwhelming right now, I better go have a Guinness or five and calm down." You just know Mooresy has good taste in a beverage too.
"We had some tacos and margaritas. … It's just unbelievable how everything has worked out." – Mike Moore.
Straight from the old man's mouth. A bloke like this you just know isn't going to be drinking that filtered through a used gym sock, that many seppo's call beer. Millers, I think you call it? No, this young man clearly drinks a classy drop. A substantial meal in a glass. Guinness.
I don't know about you, but just knowing that this kid can appreciate a beverage may make him the most relatable athlete I've ever come across. I want to get behind him. I want him to succeed. Certainly, he's far younger than I am, so we have our quirks that just can't be explained away simply.
As an example, Kyle Shohara asked him in his "Get to know Ducks draft pick Ian Moore" piece, to answer this simple, innocuous question: "I can't stop eating…?"
Moore's answer?
Chicken Parm.
Chicken Parm. What the heck is a chicken parm?
I've seen some mouth breathers call it a chicken parma, but never just "parm." It is clearly, and will always be, a chicken parmi. This is a topic I'm willing to go to war over. Ian Moore, you will change your ways. You will adapt. You will improve. And I'll love you for it.
Join me in my unadulterated love. Come my fellow Anaheim Ducks brethren. Join the bandwagon. Tickets are going cheap.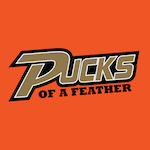 Want your voice heard? Join the Pucks Of A Feather team!
Write for us!
Are you a passionate Anaheim Ducks fan that loves reading Pucks of a Feather? If so, we would love to have you on board as a contributor! Just follow the link above for more information on how to join the crew.