Anaheim Ducks Guide to the First Round of the 2020 NHL Entry Draft
The 2020 NHL Entry Draft is finally here, and the Anaheim Ducks are sure to walk away with two incredible players in the first round.
The 2020 NHL Entry Draft was scheduled for June 26th and 27 at the Bell Centre, home of the Montreal Canadiens. However, when COVID-19 hit, all of those plans went out the window. There was a lot of uncertainty around the playoffs, the draft, and free agency. Nevertheless, draft day is finally here and Anaheim Ducks fans are hopeful Bob Murray and co. will have an incredible draft.
While it is still unsafe for events like the NHL Draft to take place, modern technology is making it possible. Much like the NFL draft, the NHL will hold their draft virtually, which will be an interesting change for hockey fans who have tuned in at any point over the past 58 years.
It will also be the first time in 26 years that the draft has not taken place on a Friday, Saturday, or Sunday. The first round is set to take place today (Tuesday) and will resume on Wednesday. Things may be a bit unconventional this year, but the fans still have the chance to tune in from the comfort of their own home.
The Anaheim Ducks currently hold the 6th, 27th (from Boston), 36th, 67th, 104th (from Nashville via Philadelphia), 129th, and the 160th overall draft pick. Big names like Lucas Raymond, Jamie Drysdale, and Marco Rossi could be available to Bob Murray in the early parts of the first round, allowing the Ducks to draft a game-changer for the franchise to add along last years darling, Trevor Zegras.
How to Tune in to the First Round of the 2020 NHL Entry Draft
Don't miss out on all of the fun and excitement. The first round of the 2020 NHL Entry Draft is sure to be chalked full of grand surprises, shocking selections, and even a few disappointments. Here is how you can enjoy the festivities:
Location: The comfort of Your Own Home

Date: October 6, 2020

Time: 4 pm PST/7 pm EST

TV: NBCSN, SN, TVAS

Anaheim Ducks Draft Selections: 6th, 27th
Following the first day of festivities, rounds 2-7 will take place on Wednesday, October 7th at 8:30 am PST/11:30 am EST. While there won't be as much coverage on the later rounds as there was with the first round, you can follow along if you have access to NHLN or SN1.
Pucks of a Feather Draft Guide
Be sure to catch up with some of our favorite potential draftee's before the first round commences.
Alex Holtz: This Swedish technically skilled snipper is known for his dangerous shot. He is distinguishable for his ability to read the game so well. Holtz plays a high energy game, has an incredible work ethic, and isn't afraid to have fun.
Noel Gunler: While chances are slim, should Noel Gunler be available at 27th overall, he is a player the Anaheim Ducks shouldn't shy away from. A lethal offensive threat, Gunler is a goaltender's worst nightmare. With a talent that is reminiscent of the Great 8, he is brilliant in his own right.
Tim Stutzel: German forward, Tim Stutzel is a bit of a wildcard in the 2020 NHL Entry Draft. As a two-way player, he can contribute to all facets of the game equally. Contributing to all facets of the game equally, he is considered both an offensive threat and a capable defensive player.
Quinton Byfield: The Anaheim Ducks won't be drafting the star that is Quinton Byfield, but there is a chance he could become their biggest enemy in years to come, with the LA Kings slotted in to draft 2nd overall. It's never to early to start studying the competition.
Anton Lundell: In years prior, a player like Anton Lundell would have been a very Bob Murray selection. The Finnish forward is a defensive dominator in all aspects of the game. However, don't knock his offensive abilities because his creativity speaks for itself.
Jamie Drysdale: The best defenseman of the draft class, Jamie Drysdale's name has been in connection with the Anaheim Ducks. Nevertheless, just because he's available doesn't mean the Ducks should draft him.
Ozzy Wiesblatt: If the Anaheim Ducks wish to follow the temple drawn out by the Tampa Bay Lightning, drafting Ozzy Wiesblatt could steer them in that direction. The smooth-skating firey player puts in the work. He has shown improvement from year to year. And what Ducks fan wouldn't like having another agitator on their team reminiscent of the great Corey Perry?
Marco Rossi: Although he may be small, Marco Rossi packs a ferocious punch. Gifted both offensively and defensively, his game may be one of the most well-rounded of the draft. Not only does he have the skill set to back that up, but his work ethic is incredible. He would fill in a lot of gaps on the Anaheim Ducks roster.
Tyson Foerster: Tyson Foerster is bringing a big-time shot to a power-play near you should the Anaheim Ducks decide to draft him with their 27th overall pick.
Jake Sanderson: A reliable defenseman, Jake Sanderson could offer the Anaheim Ducks immeasurable value one day. He fits Bob Murray and the Anaheim Ducks typical "two-way" defenseman m.o.
Lucas Raymond: Lucas Raymond is an offensive weapon that the Anaheim Ducks should absolutely consider chasing in the early portion of the draft. The Swedish forward has flown a little under the radar this year. In any other year, he would likely be considered the #1 selection. There is hardly an area of his game that raises a red flag and we already know his game translates well in the big leagues.
Cole Perfetti: If the Anaheim Ducks really want goal scoring, they should look no further than "Goal Perfetti." A dual-threat as both a goal scorer and a playmaker, he is a magician of sorts with the puck.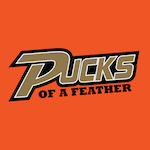 Want your voice heard? Join the Pucks Of A Feather team!
Write for us!
Are you a passionate Anaheim Ducks fan that loves reading Pucks of a Feather? If so, we would love to have you on board as a contributor! Just follow the link above for more information on how to join the crew.