Ducks 2020 Draft Spotlight: Alexander Holtz is a Prime Choice for Anaheim
While most NHL teams are making one last push for the playoffs, the Anaheim Ducks are dreaming of the 2020 NHL Entry Draft. With the highest probability of drafting 6th overall, is Alexander Holtz a good option for the future of Anaheim?
The past two seasons have felt like an eternity for Anaheim Ducks fans. It's difficult when you have to watch your team go from playoff contenders to cellar dwellers in the span of just a few years. We have been spoiled with good hockey in Southern California for a good while. All good teams must fall, and unfortunatley, that time is now for the Anaheim Ducks.
Nevertheless, despite the distance that separates the Ducks from Lord Stanley, it brings them closer to a high draft pick that they desperately need. Last year, they were extremely lucky when Steve Yzerman selected German defenseman, Moritz Seider, with their 6th overall pick, opening the way for the Ducks to draft elite American center, Trevor Zegras.
It feels like forever since we drafted Zegras and late first-rounder, Brayden Tracey. However, with the 2019 NHL Entry Draft far in the rearview mirror, this brings us back to the present. Both Zegras and Tracey will be phenomenal additions to the Anaheim Ducks someday in the near future. Nevertheless, the 2020 NHL Entry Draft is going to be incredibly deep, which should spark excitement in fans.
Over the next few months, we will examine potential draft picks for the Ducks based on where they stand in the 2020 NHL Draft Lottery Odds. While dreams of Alexis Lafrenière might help you sleep better at night, Anaheim only has an 8.5% chance of drafting first this year. Their chances of drafting second and third overall are slightly higher, but not by much. We will definetly take a look at players like Alexis Lafrenière, Quinton Byfield, and several other elusive draft picks as the season progresses, but today, we will start with a more predictable selection.
The Anaheim Ducks are currently 27th in the league with 47 points in 52 games. They have the highest probability of drafting 6th overall this year in the 2020 NHL Entry Draft (34.5%.) There are several draft prospects ranked at 6th overall by several different sources. However, with the Bob Father (Bob McKenzie) dropping his mid-season draft rankings on TSN, we're going to take a look at his 6th overall projected draft pick, Alexander Holtz.
Alexander Holtz Profile
Born: January 23, 2002 (18 yo), Saltsjö-Boo, Sweden

Nation: Sweden

Draft Year Team: Djurgårdens IF (SHL)

Position: RW

Shoots: Right

Height: 6'0"/182cm

Weight: 183lbs/83kg
Notable Accomplishments
2018-19

U18 WJC Gold Medal
J20 SuperElite (Overall) Most Goals (30)
Hlinka Memorial Silver Medal

2019-20
Alexander Holtz has several notable accomplishments that deserve mentioning. During the 2018-19 season, at 17-years-old, he shattered the U17 goal-scoring record, scoring 30 goals in the Swedish SuperElite league. However, one of his crowing achievements of the season was winning the Gold Medal at the U18 World Junior Championships with Team Sweden. Selected as one of their alternate captains, he had four goals and three helpers throughout the tournament, playing a big part in leading Sweden to the gold. To cap off the season, he assisted Sweden in winning the Hlinka Memorial Silver Medal, producing 7 points (2g, 5a) in just 5 games.
Once again, he joined team Sweden at the 2020 WJC in the Czech Republic. They would lose to team Russia in overtime during the Semifinal, sending them to the Bronze Medal game. They defeated Team Finland 3-2, winning them the Bronze Medal. Holtz joined the team for 7 games, scoring 3 goals and an added 2 helpers throughout the tournament.
Who is Alexander Holtz?
We all know how much Bob Murray loves his Swedish players, and Alexander Holtz fits GMBM's MO perfectly. Hailing from Saltsjö-Boo, Sweden, Holtz would be an excellent addition to Swedenheim. Aside from Murray's intrigue with Swedish prospects, the young 18-year-old winger has the potential to be a solid choice for the Anaheim Ducks in the 2020 NHL Entry Draft. While he is no Lafrenière, his style fits the criteria when it comes to what the organization should look for in their first-round selection this year.
Last year's first-round draft pick, Trevor Zegras, fits a mold similar to that of Ryan Getzlaf. He is a flashy playmaker, which will fulfill an important role on the roster once Getzlaf hangs up his skates. Despite his incredible playmaking abilities, Zegras lacks the elite goal-scoring talent that will be crucial should the Ducks intend to be playoff contenders again in the next few years. Holtz is one of the top prospects in this year's draft that would compliment Zegras' playmaking skills exceptionally.
Making the full-time transition to the SHL this season, Alexander Holtz currently has a stat line of 7-5-12 in 27 games played. Praised for his offensive talent, Holtz is often categorized as a natural goal scorer. The Ducks lack finishers on their current roster, and while the young Swede can certainly fulfill a role as a playmaker if the need arises, he prefers to be the one to finish plays himself. He defines himself as a technically skilled sniper; his dangerous shot often his most prominent and widely recognized skill.
18-year-old Holtz is also distinguishable for his ability to read the game and anticipate openings. He has great positioning in the offensive zone and is often ready to make a play or take a shot long before the puck is on his stick. Holtz is nothing close to a one-dimensional player, as he is a talented playmaker as well. A majority of his assists are generated from rebounds, but he makes smart passes that produce results.
While he is not specified as a two-way forward, he is, for the most part, defensively sound. He is responsible at both ends of the ice, and it isn't unusual for him to shift gears instantaneously to offer coverage to his teammates and throw off his opponents. The Swedish winger is a fantastic stickhandler in all situations, plays a high tempo game, and keep the energy up. He has an incredible work ethic and isn't afraid to have fun.
"Dad used to tell me that you can't play hockey the right way if you're not having fun and I always have a lot of fun." –Alexander Holtz
Holtz is an exceptional skater, having great balance and speed. His acceleration needs some work, but it's not something that is detrimental to his game. Another quality that might make him a target of Bob Murray is his thick and powerful frame, this makes it very hard for opponents to neutralize the young winger.
Another added bonus is his effectiveness on the power play. He would add a big boost to the Anaheim Ducks underwhelming PP they've rolled out over the past few seasons. His discipline off the ice is equally as incredible as his vision on the ice. He isn't afraid to take risks or be creative, which would shake things up nicely should he play in Anaheim.
Overall, while there are areas of his game he will improve upon with time, as he gets older, he will have a well-rounded game. This would make him a great pick for Anaheim should they secure the 6th overall selection in the 2020 NHL Entry Draft.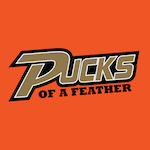 Want your voice heard? Join the Pucks Of A Feather team!
Write for us!
Are you an Anaheim Ducks fanatic that would enjoy writing for Pucks of a Feather? If so, just follow the link above for information on how you can join us!