Anaheim Ducks Prospect Spotlight: Trevor Zegras Proves He Was the Right Choice at 9th Overall
It's been almost nine months since the Anaheim Ducks selected Trevor Zegras in the 2019 NHL Entry Draft. His season thus far is proof that he was the right choice at 9th overall.
Trevor Zegras, Bob Murray's 9th overall selection in the 2019 NHL Entry Draft, is currently the apple of Anaheim Ducks fan's eyes. The elite playmaking center represents hope in the midst of troubling times. After an incredible season in the USDP, Zegras has made the transition to the NCAA, committing to Boston University. His 2019-20 season thus far has proven why he was the right choice for the Anaheim Ducks at 9th overall.
The race is currently on between the 2019 USDP draftees and their first year in the NCAA. Fellow first-round draftees Cole Caufield, Alex Turcotte, and Matthew Boldy are all making waves with their respective teams. Nevertheless, hockey fans being hockey fans, we want nothing more than for our prospect to come out on top.
Cole Caufield currently leads the pack in point production. However, with only one more point than Zegras, he has appeared in two additional games. Alex Turcotte's 17 points in 21 games and Boldy's 10 points in 24 games are outstanding numbers for freshmen NCAA players. However, in all aspects, Zegras is the clear winner, with a stat line of 8-19-27 in 24 games.
Impressing in the NCAA Circut
Despite being one of 13 freshmen on the team, Zegras has been a great addition to BU this year and has set the bar high, securing a spot as Boston University's 3rd highest point producer. His elusive playmaking abilities have added an extra boost to BU's roster, aiding them in a 10-8-7 season record, enough for 3rd place in Hockey East.
Along with freshman defenseman, David Farrance, the Terriers currently have two of the top point-getters among rookies in Hockey East with Zegras on their roster. Twice this season he has been named Hockey East Pro Ambitions Rookie of the Week, on November 11th and again on December 9th.
Zegras is currently playing at a point per game pace, recording 4 three-point games this season as a rookie. His point production is enough for him to be 35th in scoring in the NCAA. Despite the fact that he is only a freshman, Zegras has played as the Terriers first-line center, spending most of the season slotting in between captain Patrick Curry and alternate captain Patrick Harper (both seniors this season.)
Head Coach Albie O'Connell has a lot of confidence in Zegras and his ability to be an impact player at the NCAA level and beyond. He has adapted to the pace of college hockey much more quickly than anyone would have thought, and this could potentially speed up his timeline with the Anaheim Ducks as well.
Success in the National Spotlight
Trevor Zegras was named to Team USA's 2020 WJC roster in January. While he identifies as a center, he showed a lot of versatility playing on the wing for the entire tournament. He started out the contest on USA's fourth line. Despite proving that he deserved more ice time, it wasn't until later in the WJC he would move up.
He gave Anaheim Ducks fans a real glimpse of how he measures up against his peers. Not only did Zegras lead Team USA in points, with 9 primary assists in 5 games, he led all players in assists as well. He was dubbed the "Wizard of Pass" as he became one of the first players in an IIHF tournament to lead the event in scoring without even scoring a goal.
Unfortunately, the tournament would end early for the Americans. The Finns would win over the U.S. with a 1-0 win in the WJC semi-finals. While Team USA's dreams of gold may have been crushed early, Zegras would be named one of Team USA's top three players of the event. The waves he created in the national spotlight give Anaheim Ducks fans hope for the future. It may not be long before we see Zegras at the NHL level with the amount of buzz he is creating.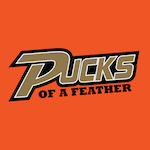 Want your voice heard? Join the Pucks Of A Feather team!
Write for us!
Are you excited about the future of the Anaheim Ducks? Share your love for Trevor Zegras and his fellow Ducks prospects by writing about it here at Pucks of a Feather! We'd love to have you onboard! It's as easy as applying with the link above!