Is Pierre-Luc Dubois on the cards for the rebuilding Anaheim Ducks?
The LA Kings have seemingly kicked off the off-season festivities with a smart trade to acquire Kevin Fiala from the Minnesota Wild. Many fans have looked at the Kings model as one for the Anaheim Ducks to follow. In truth, it's not a bad model to follow, but there are differences in each team's current lot in life.
Notably, the Kings went out to actively start a rebuild. They went all-in on that idea and acquired – then made – a high number of draft selections over a couple of years. This burgeoning pool of prospects has allowed some of those players to graduate to the NHL and given the franchise the opportunity to absorb the relative "failure" to develop others.
Even with players such as Rasmus Kupari, Gabriel Vilardi, and to an extent Alex Turcotte not developing as desired, they've had enough talent in the pipeline to trade away picks and prospects for young talent.
Trading for Pierre-Luc Dubois would help the Anaheim Ducks in their current rebuild
Conversely, the Ducks have not gone all-in on a rebuild until only recently. They have made some high draft selections who look to be the future of the franchise. However, outside of these few players, the prospect pool is talented yet thin. If prospects such as Jacob Perreault or Brayden Tracey don't pan out to the hype at the draft, the Ducks may not have the ability to absorb these losses or make significant trades.
Already Tracey has looked more like a role player than a top-6 scorer and recently hyped Sasha Pastujov has seen his probability of becoming a star (and NHL player) decline this past season. No disrespect to either player and Ducks fans should still be excited about them, but they should also temper their expectations.
The mentality around rebuilding seemingly took on new life last season when Pat Verbeek was brought on as the new General Manager. He traded away a number of long-standing players for a significant number of draft selections over the next few seasons.
Consequently, the Ducks look to be cruising into the 2022 Entry Draft with a lot of salary cap space and draft collateral. While it would seem prudent to use their draft selections to bolster the depth and talent within their prospect pool, many fans believe that the Ducks are ready to begin buying their way into cup contention. At the very least, the Ducks have money to spend.
One player who may fit the Duck's timeline and who looks to be available is Pierre-Luc Dubois. Recent reports have indicated that he would look to seek free agency following the 2023-2024 NHL season. While that gives him two seasons as an RFA, the clock is ticking for the Winnipeg Jets to make a decision on him. Given that his contract is due for renewal now, it may be an interesting time to consider trading his rights to another team. Would Dubois consider a long-term deal with the right team? Could the Ducks be that team?
Given the Ducks do not play in the purgatory that is Columbus or Winnipeg, the sunny beaches of Southern California may be a more interesting destination for a young man coming up in the league. The Ducks also boast a young and fun star pivot in Trevor Zegras as well as a hyped prospect in Mason McTavish who Dubois may consider playing alongside for the next decade or more. They aren't there yet, but there is no doubt that the Ducks have a lot of young talent and are on the up and up, despite no one being able to agree on the timeline.
Dubois may be able to see himself as a piece that fits like a puzzle. A versatile left wing who can slot in at the centre on occasion could find room to thrive alongside either of the Duck's young premier pivots. Having only just turned 24 himself, being a young man in a team of young men may also hold that allure.
Should that be the case, then perhaps the Ducks could kick start their rebuild by trading for him. Picks may not necessarily entice the Jets team, however, a selection of near-ready prospects along with those picks may be a tipping point for a team that has struggled to hold onto young talent.
Would the Ducks be willing to part with Pastujov or Perreault along with one of their first-round picks? The LA Kings acquired Kevin Fiala for their 19th overall draft pick and a top-4 defensive prospect in Brock Faber. A move in part driven by money concerns from the Wild's side. The Jet's concerns are that the player will leave for nothing, so a similar return may be enough to get things done. Adding a little bit more certainly wouldn't hurt the ducks and could help facilitate the trade.
As a package, the Boston Bruins' first-round pick (23rd overall), Sasha Pastujov, and either a second-round pick or a defensive prospect such as Henry Thrun might be enough to get the deal over the line. It certainly isn't as attractive as the Patrick Laine for Dubois trade was, nor the return a team would hope for in the washout of a former top-5 draft pick, but it may be close to the best the Jets can do. At the very least, the Ducks should enquire
As an aside, it is unfortunate that the Ducks traded away their third-round draft pick, as an offer sheet around $7.5 – $8 million dollars would very likely not be matched by the Jets. Is Dubois worth the 10th overall pick as well as a second-and third-round pick?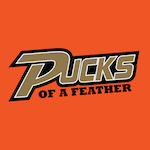 Want your voice heard? Join the Pucks Of A Feather team!
Write for us!
It's likely that he might be for the Ducks, given that they hold both the Bruin's 23rd overall selection this season, as well as numerous second-round picks in the next couple of drafts. If the Ducks do make moves to reacquire their third-round, maybe we'll finally see some fireworks. However, for now, a trade may be the only option. Is it one Pat Verbeek's Ducks would consider?