Anaheim Ducks might benefit tremendously by trading John Gibson
The recent trade rumours regarding John Gibson have seemingly cooled in recent weeks. Nonetheless, there is some thought that where there is smoke, there is fire. If Gibson is moved this offseason for future assets, the Anaheim Ducks have more than a few options they can pursue. One option that may not come immediately to mind is to take on the onerous contract of Sergei Bobrovsky.
With 4 years remaining on a $10 million dollar per annum deal, the downside to acquiring that contract is obvious to all. However, rumours abound that the Florida Panthers would consider retaining 50% of his salary in order to move him and open up some cap space for them to improve the rest of their roster. $5 million dollars per season for a netminder who has a couple of Vezina trophies in his cabinet is a reasonable deal.
Particularly in light of Gibson costing the Ducks $6.4 million per annum for the next five seasons, and that Gibson has arguably performed worse than Bobrovsky over the past five seasons. Although performances may be splitting hairs. In essence just with a straight swap in net, the Ducks could save some money in cap space, and reduce their exposure to goalie contracts in one fell swoop.
The Anaheim Ducks would get a lot back in a John Gibson trade
What is of more interest however is what would the Panthers be willing to give up for the Ducks to take on Bobrovsky's contract? What would they give up for a direct swap for the currently overrated Gibson? Both questions could have lucrative answers for Pat Verbeek's Ducks.
Straight out in front, a Gibson trade would very likely see the equivalent value of a late first-round draft pick and a mid-level prospect, at the very least. Hypothetically speaking, what if Edmonton wasn't on Gibson's no-trade list?
Would Ken Holland be willing to give up Jesse Puljujarvi as part of a package given the Oiler's cap crunch and desperate need to not have Mike Smith in net for one single second longer? What about Toronto and their seeming disinterest in paying Jack Campbell? Would William Nylander be a potential returnee if Verbeek can swing his GM powers the right way?
If Gibson can bring in a return going out, what then would bringing Bobrovsky's contract in do for the Ducks? It's extremely unlikely but would they be able to angle for Anton Lundell? Certainly, the Ducks would have to add significant pieces to the mix, however, the Panthers have no first-round picks for the next three seasons, while only owning a single second-round pick and two third-round picks over the next three Entry Drafts.
It would appear that the Ducks with their haul of second-round draft selections and the Boston first-round pick this season have enough draft capital to tempt the Panthers into a trade. Failing that, they do have numerous young prospects who are due to make their NHL debuts over the next two seasons.
Failing the Lundell idea, and that is likely, would a young prospect like Grigori Denisenko be of interest to Pat Verbeek? He's a prospect with some risk attached to him, but he also fits the timeline and age group of the Ducks core group and has clear top-6 forward upside if he pans out. His most recent season was relatively strong before being derailed by injury.
After starting the season slowly, which may be expected for a player joining a new team in a new city, he put up 17 points in the 23 games prior to breaking his patella while blocking a shot. Perhaps more exciting than his points per game totals is the raw tool kit the player possesses.
He's fast and can stickhandle in a phone booth. Added to that, his reputation as a great teammate, a rink rat, and propensity for hard work are growing. All attributes that Verbeek has highlighted in his press releases since taking over as General Manager.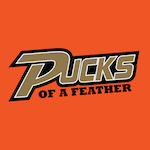 Want your voice heard? Join the Pucks Of A Feather team!
Write for us!
All of the conjecture is moot at present, given that both John Gibson and Sergei Bobrovsky have a level of trade protection. Gibson holds a modified no-trade list, while Bobrovsky has a full no-movement clause. However, if deals were to be made the Ducks could find themselves with two additional young forwards with top-6 scoring potential on their roster. The juice would most certainly be worth the squeeze.