Anaheim Ducks should take a shot at Kristian Vesalainen
This is less of a question of what the Anaheim Ducks may do with their 2022 NHL Entry Draft selections question so much as it may influence what those picks could be. Let's not beat around the bush. The Ducks currently have a great prospect pool with some fantastic young players swimming in it. However, there is a clear lack of power forwards in that mix.
It's also worth noting that the Ducks haven't had a lot of success developing power forwards since Bobby Ryan came through the ranks. Players like Nick Ritchie frustrated fans no end, and Max Jones seemingly can't stay healthy. Although he wasn't much of a scorer when he was.
This fundamental lack of player archetype in the Ducks development bank could lead to a player of that ilk being selected in the draft. However, there is a 22-year-old power forward type with strong tools who just may be available outside of the draft. That player is the Winnipeg Jets Kristian Vesalainen.
Kristian Vesalainen would make sense for the Anaheim Ducks
Taken 24th in the 2017 draft, Vesalainen has yet to find his feet at the NHL level, having recorded only 5-points in 70-games at the highest level. He played 53-games just this past season, so it cannot be said that he didn't have his chances.
With that said, the Ducks have given similarly low-scoring players like Sam Steel and Isac Lundestrom ample game time over the past few years, and Troy Terry was a notable disappointment on the score sheet prior to this past season. Although each player did do a little more than 3-points in 53-games. Nonetheless, the Ducks in recent years have shown they can be patient, and with Vesalainen currently only 22 years old, he's yet to reach his prime.
Only recently, Vesalainen has opted to sign a one-year deal for next season with the Swedish Hockey League's Malmo team. We obviously can't know what the internal talks were like between the Jets and the player prior to that decision, but from the outside, it's the beginning of a messy divorce.
Well, perhaps it's more of a mid-point to the breakup. In his rookie season, instead of playing for the Jet's AHL affiliate team, he activated an out-clause in his contract that allowed him to play for Jokerit rather than move to North America. While a further season of development may be desired for some players, this delay in moving also pushed back his development on the smaller North American ice. In some ways, it appears that it was a wasted season, which is always undesirable for prized prospects.
How did it come to this? Unfortunately, it appears that Vesalainen has presented a lack of work ethic in his North American career to date. He's a desirable player to trial because of his big frame and a disgustingly wicked shot. The applications for a big, bodied forward who can shoot, on an NHL team are myriad. However, Vesalainen rarely put himself in positions to showcase these skills. Hence his low-scoring totals in the NHL.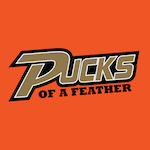 Want your voice heard? Join the Pucks Of A Feather team!
Write for us!
Unfortunately, it gets worse. After being sent down to the Jet's AHL team this past season his perceived lack of effort led the coaching staff at that level to healthy scratch him. As a point to be made, AHL writer, Jacob Stoller had the following to say: "I just watched every single one of Kristian Vesalainen's AHL shifts this year and I am completely puzzled by his continued lack of urgency/engagement. It's alarming."
So why should the Ducks take a punt on a player who seemingly isn't interested in an NHL career? The most simplistic answer is that he's a player who had first-round talent and should be available for almost nothing. There is clearly a disconnect between Vesalainen and the Jets and it's hard to imagine him returning to the fold while the Jets are aiming to be a competitive team. Does that then allow the Ducks to swoop in with a late-round draft pick or a swap of reclamation project players?
I can't imagine that the Jets would get much more than a 3rd or 4th round draft pick for him. Finding a potential player with 4th round pick would allow the Ducks to keep and use their burgeoning satchel full of 1st, 2nd, and 3rd round selections on prospects they really like rather than filling needs in the pool, or in trade on players who may be more likely to contribute quicker.
It's also worth noting that most draft selections from the 3rd round down, don't make the NHL at all let alone make an impact. Thus, acquiring a player, even if he isn't the answer, with a pick this low is still a stronger use of the pick than most prospects they could potentially draft.
It would also be a good test for the Duck's new, or rather soon-to-be new, AHL coaching staff. They would have an opportunity to strut their stuff and show they're able to motivate a player who has seemingly checked out on his previous team. They would be able to mold a player with a big frame and booming shot, into a credible NHL-ready player.
Let's not forget that he did play almost a full season this year, so he is NHL-ready. He just wasn't up to the task of sticking. It's a big step between being a part-time and full-time NHL player, but ultimately for a big guy who can shoot, not an insurmountable task. Would developing his game into one similar to that which Patrick Maroon plays, be an interesting option for him going forward? Probably not a regular top-6 scorer, but an effective power forward who can be shuffled up the line-up or play on the power play depending on the team's needs. It's a question for the player to answer and the coaching staff to build towards.
Nonetheless, a young player is available and is likely to be a relatively cheap acquisition for some teams. In relationship terms, he may be presenting a bouquet of red flags, but sometimes red can be the best colour. With just a little bit of therapy, it's possible his true worth could shine through. In a Bob Murray world, you'd imagine a cheap power forward would be flirted with, but in Pat Verbeek's world of work ethic and speed… Well, who really knows? A one-night stand might not be out of the question.