Anaheim Ducks vs Jets: Date, Time, Rapid Fire Questions, More
The day is finally here! We have waited months for the return of Anaheim Ducks hockey, and it won't be long before they take to center ice in Anaheim for Game One of the 2021-22 season. With Bob Murray finally taking some responsibility and moving forward with a rebuild, there isn't a lot of hope that the Ducks will have a great season, but that doesn't make it any less exciting.
We have you covered with everything you need to know before the puck drops. Our team also took the time to answer some rapid-fire questions and made predictions about today's game against the Jets. Play along with us in the comments below!
What You Need to Know Before the Game
Game 1: Anaheim Ducks vs Winnipeg Jets
Season Record: 0-0-0
Location: Anaheim, California— Honda Center
Time: 7:00 pm PST
TV: ESPN+, BSSC, BSSD
fuboTV has live NHL games on ESPN in which you can stream from your phone, television, and all your favorite devices. This is a service that broadcasts live TV over the internet, no cable required. Watch your favorite teams, network shows, news, and movies on 100+ channels. Plus on-demand entertainment including full TV series. fuboTV is currently available in the United States, Canada, and Spain.
Radio: AM830
Anaheim Ducks News: According to Eric Stephens of the Athletic, Mason McTavish's NHL debut is on hold.
Who scores the Anaheim Ducks' first goal?
Adam Tenenbaum: I'm thinking the top line gets the first goal. I'll go with Rakell assisted by Zegras.
Ciara Durant: Waiver Guy himself, Adam Henrique, with a beautiful feed from Rickard Rakell.
Brad Senecal: Adam Henrique. As it stands right now the projected first line is Trevor Zegras centering Henrique and Rakell, giving the young pivot the opportunity to play with a couple of players who have the proven ability to put the puck in the net. I believe Henrique really wants to prove his worth to this team this year so I believe he will be putting the puck on the net. With Zegras looking for him look for him to get the scoring started for the team this season.
TJ Watson: I'll go with Rickard Rakell for the first goal.
Who has the first penalty?
Adam Tenenbaum: The first penalty will be Max Jones. I'll say for roughing.
Ciara Durant: Ryan Getzlaf will be the first to the sin bin for the Anaheim Ducks tonight. Just a gut feeling.
Brad Senecal: Jamie Drysdale. Nothing interesting here, look for a larger player such as Blake Wheeler or Pierre-Luc Dubois look to bully the much smaller Drysdale causing the young defensemen to illegally haul down a Jets forward.
TJ Watson: Nicolas Deslauriers.
How many shots does John Gibson face?
Adam Tenenbaum: John Gibson will face a lot of shots against a strong offensive team like the Jets. I'll go with 35.
Ciara Durant: I may be lowballing here, but I think Gibson is going to face 27 shots tonight.
Brad Senecal: 38. Look for the high powered Jets forward group prove that they are cup contenders this year from the get-go. The strong top six will put a good amount of rubber on the Ducks goaltender, something Gibson is used to, but I think the Anaheim Ducks have the opportunity to show they have improved with their systems. While 38 shots isn't great, at least it isn't over 40, right?
TJ Watson: 35
What is the final score (Who wins?)
Adam Tenenbaum: Final score will be 4-3. I'll say the Jets win but I hope I'm wrong obviously.
Ciara Durant: Jets take this one, 4-1.
Brad Senecal: 3-1, Jets.
TJ Watson: Ducks win, 4-3. Getzy with the GWG.
Does BO Groulx get a point in his first game?
Adam Tenenbaum: I don't think Bo scores on the 4th line tonight. He will prob be in a more defensive role tonight, possibly killing penalties.
Ciara Durant: As much as I would love to see BO score, I think he's going to stay off the board tonight and try and hone his defensive skills in his first NHL game.
Brad Senecal: No.
TJ Watson: Yes.
Will Trevor Zegras score?
Adam Tenenbaum: Zegras won't score but he will add at least one assist, maybe more.
Ciara Durant: No, but I could see him with a primary or secondary assist tonight.
Brad Senecal: No. He will assist on Henriques lone goal for the Anaheim Ducks but will show great improvement in the faceoff dot. It will be important early on to see Zegras' maturity.
TJ Watson: Yes, he will have an assist on Rakell's goal.
Who are you most looking forward to seeing back in action?
Adam Tenenbaum: Aside from the main young kids everyone is excited to see, I'll be watching Jakob Silfverberg to see how he looks coming off surgery. I'm hoping for a big year for him now that he's healthy
Ciara Durant: Max Jones, but that answer is pretty obvious coming from me. I do, however, really like that Eakins is pairing him with Silfverberg and Isac Lundestrom tonight. I'm intrigued to see the chemistry develop between these three.
Brad Senecal: Hampus Lindholm. I would put Mason McTavish here but it seems that he will not be in the lineup for this game. Same with my second choice for this question in Sam Steel. So I will go with Hampus Lindholm, seeing as he is returning to good health as well being on a contract year. For the Ducks to have any success they will need Lindholm to step up and be the best defender on the team, but even if they are not successful the veteran becomes a very valuable trade chip for the organization.
TJ Watson: Trevor Zegras. He's ready to soar to new heights.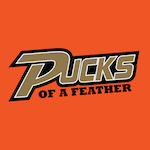 Want your voice heard? Join thePucks Of A Feather team!
Write for us!
Are you a passionate Anaheim Ducks fan that loves reading Pucks of a Feather? If so, we would love to have you on board as a contributor! Just follow the link above for more information on how to join the crew.