Anaheim Ducks: NHL Sets Target Start Date for 2020-21 Season
The NHL finally has a target date for the start of the 2020-21 season. This means we're one step closer to the return of Anaheim Ducks hockey.
It's December. Under normal circumstances, we'd be two months into the NHL season. Under normal circumstances, Anaheim Ducks fans would be going out of their minds because Ryan Getzlaf decided to pass the puck instead of shoot. We'd be horrified that the opposing team scored a goal on John Gibson because Dallas Eakins doesn't understand how to coach defense and it translates all too well on the ice. We'd be celebrating because finally, someone like Derek Grant came to save the day, scored a goal, and we're not ending the game by getting shut out.
However, these are not normal circumstances. The unpredictability of COVID-19 has put the NHL in a problematic situation. Nevertheless, they made an incredibly wise decision by postponing the 2020-21 season.
This has given them time to come up with a game plan on how to keep their players and staff safe. They did a really good job during the 2020 Stanley Cup Playoffs, and hopefully taking a little bit of extra time will pay off for them during the regular season as well.
After months of waiting, however, we finally have a start date for the 2020-21 season! The end of this drawn-out hiatus could be coming to a close, with a targeted January 13th start date being reported by several sources, including Pierre LeBrun, Elliotte Friedman, and others.
While the NHL is targeting a January 1st start date for training camp and a January 13th start date for the regular season, there is still a lot that has to be done in preparation for keeping everyone safe. One of the biggest issues at hand is how the NHL will handle travel plans. A divisional realignment must be agreed upon.
It looks as though a Canadian division has been confirmed. This has a lot to do with the unknowns surrounding when the US/Canadian border will open. It was reported that it would reopen on November 21st, but according to Prime Minister, Justin Trudeau, the border will remain restricted until at least the 21st of December.
How does a division realignment affect the Anaheim Ducks? Several proposals have the Anaheim Ducks in the new "Western Division." Some things will remain the same, with the LA Kings, San Jose Sharks, the Vegas Golden Knights, and Arizona Coyotes occupying the same division.
However, the Colorado Avalanche, Dallas Stars, and Minnesota Wild would jump from what used to be the Central Divison and join the Ducks and their fellow division rivals. Aside from the three additions, the biggest difference would be the absence of the three Canadian teams, the Vancouver Canucks, Edmonton Oilers, and Calgary Flames.
This will make travel for the Anaheim Ducks both easier and safer in the long run. How does this work for playing games? Well, we will just have to check in with NHL Commissioner Gary Bettman for that one:
"You'll play for 10 to 12 days. You'll play a bunch of games without traveling. You'll go back, go home for a week, be with your family. We'll have our testing protocols and all the other things you need… It's not going to be quite as effective as a bubble, but we think we can, if we go this route, minimize the risks to the extent practical and sensible. And so that's one of the things that we're talking about." -Gary Bettman, NHL Commisioner
The NHL season will also be shortened to 56 games, which is not what Bettman initially wanted. However, I suppose a shortened season is better than no hockey at all. And, whatever the league can do to keep the players safe, that is the top priority at the moment.
There are a lot of decisions that must be made in the next month in order for the season to start on its projected start date. However, for Anaheim Ducks fans, I think the fact that we're finally closer to seeing the boys out on the ice is enough to get us through to January. Hockey is on its way back and I've never been more excited!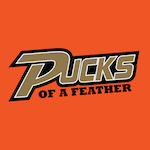 Want your voice heard? Join the Pucks Of A Feather team!
Write for us!
Are you a passionate Anaheim Ducks fan that loves reading Pucks of a Feather? If so, we would love to have you on board as a contributor! Just follow the link above for more information on how to join the crew.