Anaheim Ducks: Pretty Swede Hands You've Got There Lucas Raymond
Lucas Raymond is an offensive weapon that the Anaheim Ducks should absolutely consider chasing in the early portion of the draft.
Once upon a time, Lucas Raymond was the consensus 3rd overall talent in the soon to be arriving 2020 NHL Entry. Perhaps due to his hype having such a long tail, other players began to get hyped up even more. That's no slight to the Tim Stutzle's of the world who blazed onto the scene like a wildfire, yet it perhaps undersells Raymond who has been simply excellent for a long period of time. This, of course, is all part of Bob Murrays mastermind plan to populate the entire Anaheim Ducks roster with Swedes.
If the Ottawa Senators and Detroit Redwings deign to take their chances elsewhere, Bob Murray will run to that virtual stage so fast your eyes will be still stuck on his after image sitting at his virtual chair eating doughnuts.
Lucas Raymond Profile
Born: March 28, 2002

Nation: Sweden (Göteborg)

Draft Year Team: Frolunda (SHL)

Position: RW/LW
Shoots: R

Height: 5'10"/179 cm
Weight: 183 lbs/83 kg
Who is Lucas Raymond?
If you haven't at least heard of Lucas Raymond, you may have been living under a bit of a proverbial rock. Though that may undersell those who don't watch hockey outside of North America. Born a Swede and playing his entire junior career in his home country, Raymond has progressed through the Frolunda system for the past half-decade.
If Frolunda sounds familiar to Anaheim Ducks fans, it may be due to some of the minor links the Ducks have to that team in the past. Jacob Larsson was drafted from their system in the 2015 NHL Entry Draft. He returned there to play after being drafted by the Anaheim Ducks as well, for a short period of time. Former Duck Max Friberg has also played for the Frolunda team, though this was well after his time with the Ducks. However, I digress.
Raymond very much dominated the junior division, which saw him elevated to the SHL team during the 2018-19 season, as a mere 16-year-old. Consider that for a moment. Lucas Raymond was so good, that as a 16-year-old he was elevated to play in the (arguably) fourth-best men's league in the world. He scored 2-goals that season, in his 10 games with the big team. He carried that short cup of coffee into this season, where he was often relegated to a lower role on the team.
That lower role, however, should be considered no slight, as the Frolunda team was absolutely stacked despite their somewhat underwhelming results. Raymond himself was one of the youngest players in the league. Frolunda's head coach, Roger Ronnberg, elected to play his veterans more often than not, in order to try and generate better results.
"Growing up, I was always the go-to guy with every team I played on and got to play huge minutes. Coming into this year and not getting the same role in a men's league was extremely valuable for me. You have to really fight for a spot and earn every minute of ice time. That was a big lesson." –Lucas Raymond
I believe that it is worth mentioning that despite his raw statistics being relatively uninspiring (10-points in 33 games) when Raymond was given ice time, he performed well. His points per 60 minutes of ice time compare favorably with previous high draft picks. For example, Raymond at a 1.86 points per 60 pace, which was not dissimilar to Jesperi Kotkaniemi who was scoring at 1.96 points per 60 in a lesser league. That is to say, that while Raymond was out there, he made the most of his opportunities.
Skating
Bob Murray seems to be trending in a direction towards fast and smooth skating players since the fateful sweep against the San Jose Sharks a few years ago. He mentioned after that series loss that the Anaheim Ducks needed to get faster. Lucas Raymond fits perfectly into that play style, as he has excellent acceleration reaching an above average top speed.
By above average, I mean fast. Possibly the quickest skater in the draft class, fast. When considering his low center of gravity, Raymond is able to both fight through checks and turn on a dime. Taken together, this makes it tough for defencemen to defend him one-on-one.
"His crossovers and skating mechanics belong in some sort of hockey shrine devoted to near-perfection, and he'll be an absolute terror through transition and off the rush at the NHL-level." –Sam Happi
However, it should be noted here, that with his slight frame, Raymond will need to add mass and strength for him to have the same effectiveness fighting through checks in the NHL, with it's larger and more physical player type. The additional benefit to adding strength to his frame is that acceleration is in part a product of strength. Raymond is already able to easily create separation with his first few steps, so adding even the slightest bit of quickness as a result of strength and power training would turn him into a dynamo on this offensive end.
Offensive Game
An all-around offensive threat, Raymond is as adept at quarterbacking a powerplay as he is driving to the net off of the rush. Perhaps notably, Raymond seems to enjoy holding the puck on the half-wall and threading passes to create scoring opportunities, with the man advantage. That should remind fans a little of Getzlaf in his early days when the Anaheim Ducks had a power play that wasn't entirely impotent. With Getzlaf aging and closer to the end of his career than the beginning, it may behoove the Anaheim Ducks to look into a ready made replacement in this area.
It's possible that Raymond's all-round skill set has been underhyped by many of the prominent media outlets. Typically speaking, (non-generational) prospects usually have one thing that they hang their hats on. For instance, Tim Stutzle's calling card is his blazing speed. Alexander Holtz has an incredible shot. Lucas Raymond, however, is just really, really, good at everything.
It isn't often that we find a prospect who is able to thread the needle with a tape-to-tape pass through the slot, as well as use their speed to drive aggressively towards the net and unleash a fast-as-lighting wrist shot. The sheer utility of Raymond's offensive toolbox opens up options for his teammates on the ice.
His above-average stick handling and skating forces the defense to fall into his rhythm and out of their pre-planned defensive plays. If the defenceman remains stagnant, Raymond will beat them wide before cutting to the net. If the defenceman backs off, Raymond will either use them as a screen and get the puck on net or will take advantage of the now-larger passing lanes to find an in-position teammate.
"Although he isn't big in the classic sense, Raymond has tremendous upper-body strength for his size, and it is quite common to see him power through hits or shoves from bigger, stronger defenders. Once he's free, Raymond keeps his head up and maintains control of the puck, surveying the entire offensive zone for the option with the best chance to score. If he's tightly checked, Raymond can drop a rapid directional change on a dime, especially in the middle of the ice near the prime scoring areas." –Steve Kournianos
It's worth noting here, that Raymond doesn't require much room to get his shot off. Aside from that quick release, Raymond is adept at altering his angles creating further problems for the netminder to solve. As he develops a stronger frame, it is highly likely that Raymond will add power and penetration to his shot, which would make him an even greater danger and add a further "tool" to his already burgeoning toolbox.
Defensive Game
Stylistically, Raymond is an excellent defender. He positions himself well, he works hard and he's energetic in all three zones. He has the nouse to be capable of supporting his defencemen down low. In essence, it's all you can ask for from your high scoring winger.
The issue is of course that his lack of size and strength is already an occasional hindrance in the SHL. While it is a grown men's league it is not at the level the NHL is at, and it seems likely that Raymond may require some sheltering in the early stages of his career until he builds a big and strong enough frame to compete with some of the bigger players in the league.
Raymond's lack of size shouldn't dissuade teams from selecting him early, it merely means that they may have to wait to bring him into the team as he spends time developing his physicality. A further season in the SHL before crossing over and spending a year in the AHL would give him more than enough to time to add some serious muscle to his frame, though at ~165 pounds he has a lot of work ahead of him. It isn't an impossible task, as Brayden Point (also 5'10 and 165 pounds) has shown the hockey world, though it is somewhat more difficult.
Where players like Point excel is their ability to recover loose pucks and to use their sticks smartly to break up the opposition offensive foray. Raymond, in my opinion, is being criminally underrated in this aspect of his game. In the film and few games I've seen of him, I found him exceptional at getting his stick into passing lanes and to leverage the puck away from his man. At least so far as a 17-year-old in a grown man's league goes.
What Have They said About Him?
"Playing on a strong possession team, Raymond's on-ice shot attempt percentage (Corsi) was high at 54.32%, above average for his team and superior to the draft's two other high-end Swedes in Alexander Holtz and Noel Gunler. He seemed to be the one generating most of that strong differential too, with his excellent puck retrieval skills and knack for creating havoc in the offensive zone." –Colin Cudmore
"In this draft, he is one of the kings of doing what coaches call "the little stuff" really really well. He never gives his opponents very much time to think or set up a play in their own zone; he's constantly applying pressure; he's also exceptional with his stick in transition; he can break up transitions before they even start; he can knock pucks down in the neutral zone and turn play around." – Will Scouch (Scouching)
"When it comes to Raymond's strengths, there are plenty. Above all else, however, is Raymond's raw creativity when in possession of the puck. Completely unpredictable and willing to take risks in order to generate scoring opportunities, Raymond can execute high-risk passes with relative ease and is more than willing to experiment new plays on the fly and regardless of the on-ice situation. Yet, with this being said, every risk which Raymond takes is calculated." – Prospect Pipeline (Author not stated)
An Opinion Of Sorts
Raymond simply has a ridiculous skill set available to him. The hands to shoot, the vision to make plays, the skating to get to position. There is hardly an area of his game that raises a red flag. To be frank, he's as close to a can't miss offensive prospect as could possibly be available, and it wouldn't be out of the ordinary for him to be considered as a potential #1 overall draft selection in other years.
The downside most spoken about with regards to Raymond's game (lacking strength) can be fixed with training and time. It's worth noting that Raymond's mother, Cecilia, works as a personal trainer and nutrition coach. This should provide an easy avenue for the Ducks sports science staff to begin developing his body for the future.
With her body of knowledge, the Anaheim Ducks would be able to transfer information through her, to her son, thus giving them access to a development pathway that would potentially not be available until he reached the AHL system and falling under their direct control. That is to say, I think his weakness is overhyped and is easily remedied in this situation.
"I'll do everything I can, every practice, every game to make the lineup and be a productive player." – Lucas Raymond
It's worth noting that unlike many of his draft peers, Raymond is playing right now and working on developing the weaknesses he has in his game. At such a young age, the need to play is incredibly important, and he's getting the opportunity to do just that. In my opinion, this is a feather in his cap, that may edge him above some of the other players that may be available in the Anaheim Ducks draft slot.
With all of that said, I think it is highly unlikely that Ottawa or Detroit will let Raymond slip to the Ducks in that 6th overall selection slot. I think that whoever the Ducks select in this slot is likely to become a very good player, so there is no pressure for them to make a move. However, should Raymond be available when Ottawa step up to take their 5th overall selection, the Ducks should call them to see if they'd like to step back one spot.
Marco Rossi would be fantastic. Alexander Holtz would add a lot. Anton Lundell would be the swiss army knife. The list goes one. However, if Ottawa were open to trading back one spot for a 3rd or 4th round draft pick (or a 2021 2nd), the Anaheim Ducks should absolutely make that trade.
Raymond is very likely a top-line player in the future, but his all-around skill set lends him to run his own line. The Anaheim Ducks once went with a strong top line and little else (Ryan Getzlaf – Bobby Ryan – Corey Perry). It was incredible but ultimately was not well rounded enough to be a championship endeavor. Raymond's ability to lead a line, with Trevor Zegras already in the pocket, would be the makings of a formidable top-6 with a key play driver on each line.
Raymond is an absolute weapon and would make the Anaheim Ducks a far better team than they are today. In my humble opinion, the Ducks should chase Raymond like a great white shark honing in on a lump of horse meat.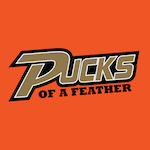 Want your voice heard? Join the Pucks Of A Feather team!
Write for us!
Are you a passionate Anaheim Ducks fan that loves reading Pucks of a Feather? If so, we would love to have you on board as a contributor! Just follow the link above for more information on how to join the crew.