Anaheim Ducks: Cole Perfetti is Goal-Scoring Machine
If the Anaheim Ducks are looking to use their 6th overall draft pick to find a true goal scorer, Bob Murray should look no further than Cole Perfetti.
One of the biggest complaints about the Anaheim Ducks has been their lack of true goal scorers. The 2020 NHL Entry Draft is Bob Murray's chance to find this said player. While there are plenty of viable options that will be available at 6th overall, one that certainly cannot be overlooked is Cole Perfetti. His nickname, "Goal Perfetti", says it all.
The young Canadian forward has been on the radar of scouts everywhere since his incredible season in 2017-18. At just 16-years-old, Perfetti blew everyone out of the water with his 125 point season with the Vaughn Kings (GTHL U16.) He outscored his own teammates by almost 40 points.
If it is a goal scorer that Bob Murray wants, if he drafts Cole Perfetti, it's a goal scorer he will get. Hailed by some as this year's most prolific goal scorer, he will certainly have a lot to live up to. However, he's already proven he is a threat on the ice that the Anaheim Ducks would be so lucky to have in their system.
Cole Perfetti Profile
Born: January 1, 2002

Nation: Canada (Whitby, Ontario)

Draft Year Team: Saginaw Spirit

Position: C
Shoots: L

Height: 5'10"/177 cm
Weight: 185 lbs/84 kg
Offensive Juggernaut?
Cole Perfetti is often considered to be a dual-threat. Not only can he burry goals, but he is an incredible playmaker as well. This is a skill set that will carry him far in the NHL. This is, in large part, due to the fact that he is an extraordinarily smart player, who almost always makes the right play. His 111 point (37g, 74a) season should speak to that.
The 18-year-old Canadian pivot was absolutely incredible for Team Canada during the Hlinka-Gretzky Cup. In just 5 games, he had 12 points, including 8 goals. Not to mention, in the Semi-Finals against Team Sweden, he helped lead Canada to victory with not one, not two, but three shootout goals!
An offensive magician of sorts, Perfetti can pull chances out his hat at a whim. His offensive awareness allows him to utilize his creativity in a way that absolutely decimates the competition. He sees the game several steps ahead of his opposition, and his vision on the ice makes him one crafty devil. He needs only the smallest amount of space to set up his linemates and find passing lanes that seemingly weren't there before.
Perfetti's greatest weapon, however, might be his confidence. This translates into both his goal-scoring and his stickhandling. He is a sniper through and through, and he has a wicked wrister that is everything you'd want it to be: powerful, accurate, with a quick release. He also has an excellent one-timer and can score on the backhand.
He is also good at establishing his position in front of the net. His quick hands allow him to make quick moves in front of goaltenders, putting him in the optimal position to bury a rebound. He has good lower body strength which helps him win battles along the boards and quickly join the forecheck.
Not Much to Say About His Defensive Game
There isn't much to say about Perfetti's defensive game. However, that isn't a bad thing. There isn't anything that sticks out as a major concern. He has a high hockey IQ which helps him read the ice pretty well. He maintains solid positioning and he remains engaged. He is decent in the faceoff circle and there are no complaints about his effectiveness on the forecheck either.
However, his defensive skills aren't his bread and butter like his offensive skills are. Some experts believe that moving him to the wing at the NHL level will alleviate some of his defensive responsibilities and help him focus more on being a scoring threat for his future NHL club.
The Biggest Complaints
When you take a look at Cole Perfetti's profile, his size jumps out on the page like a sore thumb. At just 5'10" and 185 lbs, Perfetti is one of the smaller players in the first round of the 2020 NHL Entry Draft. This may throw a few teams off of his scent. He sometimes lacks the physical presence, but he does a good job of holding his own and not getting knocked off the puck. Besides, we all know that the NHL is focusing more on players with skill than finding the big-bodies, and I'm sure Bob Murray has read the memo.
The biggest knock on Perfetti's game, however, lies in his speed, specifically in terms of his straight-line speed. He isn't explosive on his skates and is often ineffective when it comes to accelerating. There are moments when his skating can seem a bit awkward, but once he gets going and finds his groove, he tends to have a wider ranger of mobility.
"He needs to improve on his skating to really make an impact at the next level, but he has the potential to be something great." –Josh Bell, the Hockey Writers
His skating often puts his position into question. Does he have what it takes to center a top line at the NHL level? While there is no doubt Perfetti will be a Top-6 guy in someone's system, he could be better suited on the wing. However, Ryan Getzlaf should be proof that you don't necessarily have to be fast to be successful down the middle.
His speed is not something that will be detrimental to his game, as he is an incredibly versatile player. It does mean, however, that Perfetti is nowhere near ready for the NHL at the conclusion of the draft. But, in the Anaheim Ducks case, that wouldn't matter much anyway.
This team is not ready to showcase its stars full-time. Both Murray and Dallas Eakins should be well aware of that. Nevertheless, his speed is an area that he needs to show vast improvement in if he wants to be NHL ready anytime soon.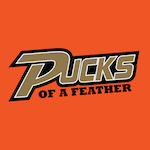 Want your voice heard? Join the Pucks Of A Feather team!
Write for us!
Are you a passionate Anaheim Ducks fan that loves reading Pucks of a Feather? If so, we would love to have you on board as a contributor! Just follow the link above for more information on how to join the crew.