What if the Anaheim Ducks Were Buyers at the Trade Deadline?
At the Trade Deadline, it is more than likely that the Anaheim Ducks will be sellers. What trades could they make, however, if Bob Murray decided to be a buyer?
With the Anaheim Ducks struggling this season, they're likely going to be sellers leading into the February trade deadline. The focus is likely going to be on which minor players General Manager Bob Murray decides he would like to move out for minor draft picks.
Whether you believe the Ducks should be in for a major shakeup, is in some ways a moot point. Given Murra's temperament and history as GM in Anaheim, the likelihood that one of the Ducks big money, or reasonably performing players, is moved is pretty unlikely.
What if, however, the Ducks decide to be buyers at the trade deadline? Murray has seemingly long believed that his team can be a playoff contender year in and year out, and often makes his moves according to that 'logic.'
For instance, Jakob Silfverberg being extended for 5 years suggests that he will be part of a contending team. Erik Gudbranson being brought in assumes that the Anaheim Ducks need a below-average defenceman to prevent them from winning playoff games. Much like the way Clayton Stoner or Kevin Bieksa assisted them in getting early holidays in the past.
So with that in mind, who are some possible trade targets for the Ducks should they decide to take the opposite tack and buy into some talent come February?
Alexandar Georgiev, Goaltender, New York Rangers
A talented, young player, who performed quite well last season (.914 sv%, 2.91 GAA, 14-13-4), Alexandar Georgiev is seemingly the odd man out in net for the Rangers. Henrik Lundqvist is still signed for next season and Igor Shestyorkin has been promoted out of the AHL. Shestyorkin is the heir apparent to King Henry's crown. Most importantly, the Rangers are currently carrying all three netminders, and Georgiev would be required to pass through waivers to go down to the AHL level. Thus, a trade seems most likely.
This could be where Anaheim can step in. Assuming they move the aging Ryan Miller on to a team desperate for solid netminding (see Edmonton or Carolina), they could easily pick one asset and move another for the younger Georgiev. It is very rare that a netminder is moved for a return that the player might be worth, and given that Georgiev has struggled somewhat this season and is out of the picture to an extent, the Ducks may be able to make a move for picks.
For instance, a combination of trades may look like:


Ducks Get
2020 2nd Round Draft Pick
Alexandar Georgiev

Rangers Get
2020 3rd Round Pick
2021 Conditional 4th Round Pick
In this case, the Anaheim Ducks move up in the draft, as a 2nd round would have more value than a 3rd and a 4th round pick. However, should Alexandar Georgiev excel, and play more than 30 games in the 2020-21 season, that would be the difference in pick conditions, moving the Rangers conditional 4th round pick to a 2nd round pick. The Ducks also get younger and give Lukas Dostal time to develop in the junior and minor leagues.
Jesse Puljujarvi, Wing, Edmonton Oilers
The big Finnish winger hasn't really taken fire in the NHL since being selected #4 overall in the 2016 NHL Entry Draft. However, more to the point, he is now playing in Finland as he was unable to come to terms with the Oilers. He currently has 14 goals and 32 points, in 35 games for Karpat in the Liiga, although how that will translate to the NHL is anyone's guess.
Notably, the critiques against Jesse Puljujarvi have been his ability to communicate in English, his ability to play within an NHL system, and his overall hockey intelligence. His time in Finland will not necessarily help him learn NHL systems play, however, playing more is likely to help his overall knowledge of the game. English is another thing that may be more difficult to learn in Finland, but then it should also be noted that many, many Finns speak it with near fluency if not better than native speakers. Thus this season could be beneficial to him, and to the Oilers.
However, even considering this, the big Finn does not hold the same value as he once did. It may be that the Ducks could swoop in on this reclamation project either by swapping out one of their former first-round draft picks or by trading away a couple of mid-draft, draft picks. For these Anaheim Ducks, I would consider moving on from Jacob Larsson.

Oilers Get
Jacob Larsson
2020 4th Round Draft Pick

Ducks Get
Jesse Puljujarvi
In this trade, the Anaheim Ducks move on from Larsson, who has looked ok, but not necessarily a world-beater. He may develop into more down the track, and that is certainly what Bob Murray would try to sell Ken Holland on. The 4th is just adding a low percentage lottery ticket to sweeten the pot. In exchange, the Ducks gamble on what could potentially be a bust or a big-ticket item.
If Puljujarvi flops in his return, then they've given away a defensive prospect who looks like he is currently pegged to be a 3rd pairing guy, and a 4th round pick that is unlikely to bear fruit. If he excels in his return, however, then the Ducks could have a top 6 winger with top of the draft pedigree. It's a gamble, but perhaps one which the Ducks can afford to make.
Ilya Kovalchuk, Wing, Montreal Canadiens
Yeah, Ilya Kovalchuk is old and more or less washed. But you know you want his jersey. It isn't going to cost them much to bring him in (potentially a very late draft pick), so why the hell not? It may also go a little way to address the perception that the Anaheim Ducks don't like Russian players. If they can extend him next season for the league minimum again, or at least close to it, it would allow them to protect some of their youth and keep them in the AHL to develop a little longer.

Canadiens Get
2021 6th Round Pick

The Ducks get a name brand to maybe create a little interest, and they begin to arrest some of the perceptions about them, which may bring in dividends down the line. IT will also help them keep their youth developing rather than throwing them to the wolves. If they can extend him, and he can score off of some of Getzlaf's passes then maybe they can sell him next season for a slightly higher draft pick.
Mark Jankowski, Center, Calgary Flames
Mark Jankowski is certainly broken down on struggle street having scored only 1 point this season with the Flames. It seems he's fallen out of favor even on a fourth-line role of late. However, he has scored 32 and 25 points in the past 2 seasons, but perhaps, more importantly, he has some size and reach. Both of these are attributes that would fit a bottom 6 forwards profile, and perhaps this is where the Anaheim Ducks can step in.
It should also be noted that Jankowski is in the black for Corsi-for percentage, Fenwick-for percentage, expected goals percentage and scoring chances for percentage. Assuming the Ducks could transition him into a bottom 6 staple these are a good starting point to work from.
Acquiring Jankowski would also allow them to move on from the older Carter Rowney, and potentially acquire a draft asset for him. Taken together we might see:

Blue Jackets Get
Carter Rowney

Ducks Get
Mark Jankowski
2020 5th Round Pick
**2020 3rd Round Pick (to Calgary)

Flames Get
2020 3rd Round Pick
With these trades, the Ducks get younger and move up in the draft. They are also able to ice a center that can help keep future bottom 6 centers such as Benoit-Oliver Groulx in the minors or AHL to further develop.
While it may be unlikely that the Anaheim Ducks take these routes, they are potential trades that could conceivably be made to incrementally improve the team. They would also move slightly higher in the draft this season while getting younger upfront and in net (sans Kovy.) Thus while traditional thinking might be that the Ducks should be sellers, perhaps looking at it in a different light, buying up on unwanted youths could bear fruit for them in the future.
Taken together the complete trade set is as follows:
Anaheim Ducks Acquire:
Alexandar Georgiev, 24 years old

Jesse Puljujarvi, 21 years old

Ilya Kovalchuk, 36 years old

Mark Jankowski, 25 years old

2020 2nd Round Pick

2020 3rd Round Pick

2020 5th Round Pick
Anaheim Ducks Lose:
Ryan Miller

Jacob Larsson

2020 3rd Round Pick

2020 3rd Round Pick

2020 4th Round Pick

2021 4th Round Pick / 2nd Round pick (Conditional)

2021 6th Round Pick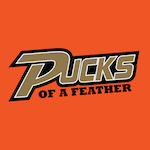 Want your voice heard? Join the Pucks Of A Feather team!
Write for us!
Are you a passionate Anaheim Ducks fan that wishes to write with us here at Pucks of a Feather? If so, we would love to have you on board! For more information on how to join, simply follow the link above.