Anaheim Ducks: Simulating the 2020 NHL Draft in January
Although the Anaheim Ducks have only played five games so far in January, it is very clear that the team is heading anywhere but up with a 1-4 record in five games. The All-Star break is only three games away and the rest of the season is not getting any easier. With that said, the one thing left to look forward to is the 2020 NHL Draft. Let's look at where the Ducks stand as of January 12th.
After a 4-2 loss to the Chicago Blackhawks, the Anaheim Ducks sit at 30th in the league standings. Although it was very obvious that the Ducks were not set up to do well this year, it did not seem like they were destined to be so low in the standings. With every downside comes an upside, however, and the Anaheim Ducks are set to have a very nice pick in the upcoming draft. With that, I have simulated the draft twenty-times and I looked at what the best options would be, so let's take an early and optimistic look at the draft.
In simulating the draft twenty times, the Anaheim Ducks ended up at the fifth pick ten times, so it's pretty obvious that they have a very good chance of being in the top five if they keep on losing. Their next most recurring pick was at number one, so luck just might be on their side in the draft lottery. Anaheim came in second and third twice, and then they followed that up by coming in fourth, sixth, and seventh once. Never once did they fall out of the top ten, thankfully.
According to tankathon.com, the Anaheim Ducks are currently projected to be at the third pick, so although the fifth pick would be unfortunate to fall to, it would not be the end of the world. If we go by the idea that the Ducks do get the third overall pick, what would be their best option? Well, it is not hard to see that the Ducks need someone who can either stand in front of the net or someone with serious scoring power. A clear departure from picks that add-on assists but not many goals.
The best available option and a perfect steal for the Ducks at three would be Alexander Holtz. Another Swedish pick for general manager Bob Murray, Holtz has forty-seven points in thirty-eight games in 2018-2019. He has seven goals in twenty-three games so far with Djurgardens and would overall be the perfect pick for Anaheim. As most Scouters have said, he is a goal scorer at heart and will put up some great numbers with a bit more development. Alongside Trevor Zegras and Brayden Tracey, that is a solid goal-scoring core.
If the Ducks fall to the five slot, their most realistic pick would be Holtz's counterpart in Lucas Raymond. He is projected to go forth, but I'll get to the fifth projected pick next. Raymond is not a bad pick, I would like to point that out right now. Raymond would be a fantastic piece for adding on more assists, but the Ducks need someone who can actually score consistently. Tracey is looking like the prospect that will do that for Anaheim at this moment, but that is still putting all your eggs into one basket if you acquire all these helpers with only one bonafide goal scorer. If Raymond could work well with Max Comtois and Max Jones, that would bump him up to a great pick, but the best choice going forward is still Holtz.
If Bob Murray would enjoy ruining the franchise some more, the best pick for him would be Cole Perfetti. Not only is he not even close to being NHL ready, but his statistics are just uninspiring. Unless he has a miracle growth through development, he will not be the one for Anaheim. His best statistical year was 2015-2016, and he only managed to acquire fourteen points with four goals and ten assists. Perhaps Perfetti would work nicely with another team that already has a ton of great prospects and more time to build, but Anaheim is not that team.
In closing, having Zegras, Tracey, and Holtz on the same team would be incredibly exciting. Depending on if the Anaheim Ducks decide to take on "bad" contracts to bring in even more prospects, they might have a miracle team with a mix of determined veterans and incredibly talented prospects that carries them back to the playoffs. It all starts with this season and this upcoming draft, however, so let us just hope that Bob Murray makes the right choices.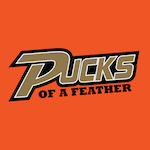 Want your voice heard? Join the Pucks Of A Feather team!
Write for us!
Are you a suffering Anaheim Ducks fan that would enjoy writing about your team? Whether you are suffering or not, we would love to have you on board as a contributor! Follow the link above for more information on how to join us.