Anaheim Ducks: Silfverberg Selected as a 2020 All-Star
The roster for the 2020 NHL All-Star game was announced today, and among the great talents of the game is a young and still upcoming twenty-nine-year-old Jakob Silfverberg from the Anaheim Ducks. It is the first All-Star game of his career, and it is very well deserved with the season that he is having.
Also representing California this year are two seasoned All-Star veterans in Anze Kopitar and Logan Coture for the Kings and Sharks, but Jakob Silfverberg is finally getting his shot to represent Anaheim. Already a fan-favorite, Silfverberg will get his shot to show the rest of the hockey world why Ducks fans have so much affection for him.
Over his seven years in Anaheim, Silfverberg has accumulated 120 goals, 139 assists, and 259 points in 8162 minutes on the ice through 482 games. Always a trusty left-winger, he seems to be finding his scoring touch this year more so than he ever has. He had twenty-four goals through seventy-three games last season, and now he already has thirteen through thirty-eight this season. He leads the team in both goals and points.
In thirty-eight games, Silfverberg has been on some great streaks to get him to this All-Star game. To start, he had a three-game scoring streak against Buffalo, Carolina, and Calgary. Then, he had five assists in the span of seven games against Winnipeg, Minnesota, Edmonton, and San Jose. This has been one of his best and most consistent seasons in his career, and it is still the first half of the season.
Also on the ballot was the captain in Ryan Getzlaf who is having another fine year at the age of thirty-four. In his fifteenth year, he has ten goals, fifteen assists, and twenty-five points through thirty-seven games. Getzlaf is well on his way to beating his fourteen goals last season as well as matching his thirty-four assists.
Getzlaf is one of the Last Men In candidates alongside Drew Doughty, Tomas Hertl, Max Pacioretty, and Johnny Gaudreau. It is a tough competition to get through with all those great players, but the thought of him being considered for an All-Star game in his fifteenth season is already an honor. May the best Californian player win in this scenario.
In closing, Jakob Silfverberg having a career year through the first half has slated him to play with other All-Stars like Connor McDavid and Matthew Tkachuk. It is long overdue that one of the most consistent and beloved Ducks finally made it, and it will be a beautiful thing to see Anaheim represented so well. Ryan Getzlaf also gets a strong nod as an All-Star hopeful in his fifteenth season. So now, all that is left is for Ducks fans to cheer loudly and proudly for Silfvy when he is skating with some of the game's best skaters.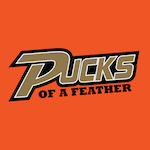 Want your voice heard? Join the Pucks Of A Feather team!
Write for us!
Are you a passionate Anaheim Ducks fan that loves reading Pucks of a Feather? If so, we would love to have you on as a contributor! Just follow the link above to find more information on how to join us.