Anaheim Ducks: Dwelling in the Cellar and the Climb Back to Relevance
After their most recent loss, the Anaheim Ducks are now dwelling in the cellar. How do they make the climb back to relevance?
Well, it's finally happened; the Anaheim Ducks are at the bottom of the Western Conference. Well to be completely honest, they're fighting for last with the Chicago Blackhawks, who have 1 less ROW, but 2 extra OT losses. Depending on how you slant it, you could go with the Ducks have one more win, or that they've lost more games quicker.
Either way, both teams have 32 standings points from 35 games played. This places the Ducks 10 points behind Edmonton for 3rd in the Division and 8 points behind the Calgary Flames for the final Wild Card spot.
It's worth noting that while the playoff picture doesn't change a great deal on a year-to-year basis, following the Christmas roster freeze, it is technically still possible. Perhaps more possible this season than in others given the weakness in the Pacific Division, and that both teams the Ducks are chasing are division rivals that they will play again on multiple occasions. The Ducks also have one and two games in hand on the Flames and Oilers, respectively.
Is Tanking in the Best Interest of the Team Going Forward?
The question is probably worth asking, however, if this is in the best interests of the franchise going forward. On one hand, there can be an emphatic yes. No one wants to watch a bad team actively trying to lose. Going by home game attendances, the Anaheim Ducks don't have fans who want to watch losing at all, let alone deliberately trying to tank for draft picks.
For a once, and very recently, budget team, a lack of ticket sales could necessitate a shift back to spending cuts. Traditionally speaking, budget teams have a hard time being competitive, at least so far as reaching conference finals and further. The Ducks themselves are one of a very small handful of teams who have performed to that extent with that handicap. However, lightning doesn't always strike twice.
There is also something to be said for a cultural shift that can occur when a team's priorities change towards the negative. Attitudes can sour, expectations can be blunted. In some cases, this attitude shift could result in losing far longer than would be the case in a team actively trying to win each and every game. Too often we as people (and so of course in this case the players) are a reflection of our own self-talk. If we lose often enough, then we are losers. It's a very difficult cycle to break free from.
Look at the Oilers. For multiple reasons, they've only just now crawled out of the cellar after more seasons on the bottom and #1 overall picks than you can poke a stick at. While this is an unlikely scenario just at present, given the number of older players the Anaheim Ducks have on the roster, it could potentially be a burden for the incoming youth, as few and far as they seem to be within the roster. It would be a great risk if the franchise thought this group of young players is likely to be the future of the team.
On the other hand, it is very difficult to acquire enough talent to be a credible Cup fancy without bottoming out and selecting high at the entry draft. The current group of dominant teams in the league has all acquired most of the marquee talents via the entry draft. Indeed, this has been the case for most of the conference finals teams, and Stanley Cup winners in recent history. The Ducks themselves may have been one of the few who bought their Cup rather than drafted it. Their Cup win is now so far in the rear vision mirror as to not be worth mentioning.
The Anaheim Ducks Don't Have the Recipe to be Cup Contenders
I've heard some fans suggest that the Ducks only need one more high draft pick (this season) to go alongside Trevor Zegras, to turn this into a Cup contender. I'd have to argue that this seems unlikely. In part based upon the development curves of prospects. Zegras, and whichever player the Ducks may select this season, are unlikely to enter the team next season and be 50-60 point producers. Though it would be nice. Most likely, they take a few years to develop and hit their straps ~3-4 years from now, though they may play earlier. In 3 years, it's highly likely that the Ducks' current best players are no longer capable of hitting the marks they may be capable of hitting at present.
There is also something to be said for conference finals teams having most of their talent sitting around the 24-26 years of age bracket. This age range is typically when scorers hit their peak years, and is also a time frame before many of them have signed lucrative and expensive contracts. Outside of the Penguins, who had the best player in the game signed, most Cup-winning teams have very few, if any, maximum contracts on their books.
While the Anaheim Ducks don't currently have any max level contracts (under this current CBA), their spread of players is atypical for a contending team. Their best players upfront, are in or about to enter their thirties, and there are very few players (perhaps only Rickard Rakell and the oft-injured Ondrej Kase) bridging the gap between them and the current prospect group.
The Ducks are also an older group for a rebuilding team, a term which has yet to be used by the current administration but has been bandied about by fans and media personnel. In fact, the average age of the current NHL roster is 27.8 years, yet the Ducks are running with a largely veteran roster averaging 29.6 years of age. The 4th oldest group in the NHL.
With both sides of the equation laid out somewhat, what should they do, becomes a difficult question. The obvious answer is to travel the well-worn path of tanking for draft picks and developing youth. Doing so over the next 2-3 entry drafts would allow the Anaheim Ducks to home grow a number of players with potentially high-end skills, together. Having a critical mass of players entering their primes together is a singular recipe for success.
Success Requires Sacrifice
It would certainly require sacrifices, and some fan-favorite players may be put on the chopping block. Adam Henrique, Jacob Silfverberg, and even Rickard Rakell could be considered to be outside of an age range where they will be expected to be performing at their peaks when the Ducks look to contend again for a Cup. Even should they be, the Ducks have a lack of interesting talent which other teams may consider giving up 1st round draft picks for. I say draft picks, as who really wants another teams' failed prospects when they're undertaking a long term rebuild?
What would the Anaheim Duck conceivably get in return should they decide to move on from some of those fan favorites? Realistically, and with the hindsight of the recent Taylor Hall trade, probably not a lot. Henrique and Silfverberg have a lot of term left on their deals, and they're not particularly attractive deals for a contending team to take on.
Though they're also not the worst. It may be plausible for the Ducks to leverage them by taking on some salary back alongside additional assets. Rickard Rakell is likely the most attractive of the Ducks assets, and many fans would be loath to part with him. Yet, for a reasonable salary, and with only 2 years on his deal, he would likely command great value on the market.
A further option to accrue assets may be to weaponize what cap space they have following the acquisition of Erik Gudbranson. The Penguins have made it clear that Alex Galchenyuk is on the outs with them, and they have explored trade options accordingly. The Ducks could conceivably pick him up to absorb his cap space, in order to allow the Penguins to acquire a different player. In return, they would angle towards getting a higher draft pick.
Perhaps, the Ducks trade a fourth-round pick for Gulchenyuk and a third-round pick. In addition to the higher draft pick, paying Galchenyuk for the rest of the season may allow them to move one of their prospects back to the AHL and away from the reoccurring losing that is occurring at the NHL level.
Drafting High and Developing Prospects
Unfortunately, the development pathways also have to be considered. The Anaheim Ducks haven't really developed many of their prospects in recent years. Sure, they've had their successes, yet most have flourished once they left the organization. Kyle Palmieri is possibly the biggest name drafted by the current regime. Rickard Rakell maybe the only other notable forward selected. Even the recent coaching change leaves much to be desired. For instance, there has been a marked decrease in scoring from the players under 24 between this season and last.
Troy Terry, prior to his injury, had seen a 41.5% decrease in points per game between last season and the present one. Sam Steel has declined by 34%. These two have played with the Anaheim Ducks best players who are still amongst the team leaders in scoring.
Other youthful players have similarly seen a decline: Ondrej Kase (-32.8%), Nick Ritchie (-28.8%), Max Comtois (-54.3%), Isac Lundestrom (-100%). Only Max Jones has seen an uptick in his scoring rates per game (23.5% increase). These declines reflect those of the teams' trends in general. The Ducks are getting 15.6% less scoring per game from their forward group than they did last season.
When drafting high, most players taken are going to be amongst the forwards. For example, the 2020 entry draft will see the first 3-4 selections locked in as forwards. Highlighted of course by Alexis Lafreniere, though Quinton Byfield, Cole Perfetti, Lucas Raymond, and Alexander Holtz, are not chopped liver. Thus, the hard question should be asked, whether this management and coaching group is the group who should be in charge of developing high potential prospects. The coaching, in particular, should be questioned as that coach blunted the offensive effectiveness of other #1 overall draft picks during his time in Edmonton.
It would be remiss not to mention that the Anaheim Ducks are seeing a lot more offense coming from their defensive unit this season. Specifically, a 9.7% increase in points per game, as a group. This increase doesn't quite make up for the larger decrease from the forward group, particularly when accounting for forwards making up the bulk of the scoring in general, but it does highlight that perhaps the group can produce offensively orientated defencemen if the Ducks went that route. It may not be a route that would move the needle overly much in terms of Cup contending, but it's certainly a path this group could go down.
All in all, the Anaheim Ducks sit upon the edge of a precipice. On one hand, they can race towards mediocrity and the unlikely chances of the odds breaking in their favor. On the other, they can tread the now well-worn path of playing the lottery. Both ways will require no shortage of luck for the Ducks to climb back to relevance. Yet the simple fact remains that this current Ducks team is bad. Very, very, bad. The fans are already showing their displeasure with their failure to show at the gate. Will the team respond?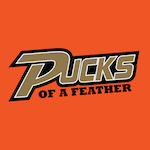 Want your voice heard? Join the Pucks Of A Feather team!
Write for us!
Are you a passionate Anaheim Ducks fan that would enjoy writing for Pucks of a Feather? If so, click the link above for more info on how you can join us in writing!