PODCAST: Has the Anaheim Ducks Tankathon Been Derailed?
Episode 7 of the Pucks of a Feather Podcast is live! Join in as we recap all of the happenings during the last week of Anaheim Ducks hockey.
Episode 7 of the Pucks of a Feather Podcast is live! Join in as Jason Lamb and Patrick Mahoney recap the last week of Anaheim Ducks hockey. On this week's episode, Jason and Patrick discuss their thoughts on Silfverberg's hot play as of late, Getzlaf's chances at the Hockey Hall of Fame, the Tankathon continues, and will Ryan Kesler return this year? All of that and more! If you have questions about the Anaheim Ducks you want to be answered on the show make sure to hit us up on social media or leave a comment below to get them in!
Topics Covered on This Week's Podcast Include:
Recap of last week's games

3 wins out of 4. Is that good or bad?

The kids are continuing to impress
Where is Ryan Kesler?

Hasn't played since the Blues game
Is this it for him?

Silfverberg is so hot right now

Scoring in 8 of his last 9 games
4 goals in his last 5 games
One goal shy of his career high

Getzlaf hits his 13th consecutive 30 assist season

He has to be a Hall of Famer… right?

The Tankathon is derailed.. for now.

Despite winning, the Ducks still sit in the bottom 5.

Ryan Getzlaf bobble-head night
Forever Mighty Watch Party
and MORE!
Check us out on Twitter @PucksofaFeather for updates on recent articles, new episodes, daily analysis and more! Let us know on social media if there are any topics you'd like us to discuss on the next episode or leave them in the comments below! If you liked the show be sure to head over to iTunes and give us a rating and review, we really appreciate them all!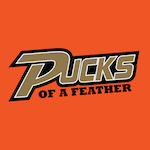 Want your voice heard? Join the Pucks Of A Feather team!
Write for us!
Pull out your laptops and start brainstorming; you could be the next staff member to join the Pucks of a Feather team! It's as easy as filling out the application above. We can't wait to see what you can bring to this team!